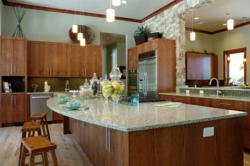 By streamlining pricing, designers and architects can now rely on one simple price per square foot regardless of the color or size combination specified."
Plano, TX (PRWEB) February 08, 2012
GLASS RECYCLED – the Texas based firm that manufactures hard-surface materials for countertops and flooring for a variety of commercial and residential applications – announces their new simplified pricing program for 2012.
According to Tim Whaley, inventor of the GLASS RECYCLED process of recycling and transforming discarded glass and porcelain into beautiful, sustainable applications, "Since we have added literally hundreds of new color combinations to our product offerings, we decided to simplify the pricing process to make it even easier to specify our products for countertops, flooring and custom specialty decor uses. By streamlining pricing, designers and architects can now rely on one simple price per square foot regardless of the color or size combination specified."
This simplified pricing program is available on products offered under the GLASS RECYCLED umbrella. The company's major premise is taking unused glass and porcelain products of all shapes, sizes and colors and combining them in a unique epoxy system to create a granite-like product that has the added benefit of total customization in both color choices and final use. Like granite and other terrazzo-like materials, GLASS RECYCLED products are extremely durable and sophisticated but offer the added benefits of unlimited size and color combinations.
Hundreds of clients have already enjoyed the benefits of this sustainable product in major commercial and residential uses including flooring, wall panels, bars and countertops, bathrooms and landscape accents, as well as one-of-a-kind decorator touches including art-like murals and company logo uses.
GLASS RECYCLED has created four sub-brands including GlassSLAB - a stunning product suitable for kitchen countertops, bathrooms and other countertop applications in a variety of sizes, GlassPLANK - the company's unique flooring and wall panel products that can be installed with seams as little as 1/64" and available in a variety of sizes and thickness, GlassDECOR - uniquely designed interior products that include recycled glass table tops, glass panels, ceiling tiles and other imaginable applications and GlassSCAPE – a recycled glass landscaping material, which is loose, bagged recycled glass and porcelain aggregate product that can be used as a permanent and beautiful alternative to groundcover, mulch or used in fountain and aquariums.
GLASS RECYCLED recently unveiled their exclusive Designer Showcase online. Hundreds of color combinations can be viewed, or one can create their own combination and the company will produce a sample to view before ordering. With the company's new streamlined pricing structure, a simple calculation is all that is needed to finalize budgets to include this cutting edge product. To find out more about GLASS RECYCLED – which is marketed and fabricated in the Dallas-Fort Worth area of Texas and shipped internationally as needed, visit GlassRecycled.com, phone 888.523.7894 or contact glassrecycled(at)gmail(dot)com.
###