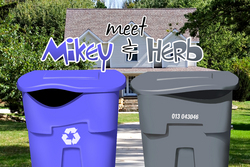 Herb and Mikey are intended for a much loftier purpose.
San Diego, CA (PRWEB) July 20, 2009
Trash day will never be the same again. It used to be that your trash cans only made irritating clanking noises. Not so any longer.
Waste and recycling bins have learned how to sing. And carry on insightful conversations about their purpose in the eco-system.
All since some clever creators brought two comical curbside bins to life. Meet Mikey and Herb.
Mikey, a recycling bin, is the less senior and confident of the two. His mentor, Herb, is a seasoned trash bin who has clearly seen the ways of the world, and has an opinion on everything from proper waste management to the afterlife of an aluminum soda can.
As entertaining as these characters' insights are, their running commentary is only part of their charm. They're also surprisingly capable singers. Mikey and Herb perform original recycling-themed songs that sound remarkably like popular rock and roll, Motown and Country tunes.
You can watch three of their new music and comedy videos by clicking on the singing recycling bins at:
http://www.artisanmediastudios.com/projects.html
The new campaigns are the brainchild of Don Hacker and Bob Ingraham, owners of Artisan Media Studios, a San Diego marketing and media firm. They specialize in creating attention-getting new media and traditional media campaigns and executing strategic marketing plans for regional and national companies.
"While these curbside bins are no slouches as entertainers," explains Hacker, "Herb and Mikey are intended for a much loftier purpose." "They're designed to increase public participation in curbside recycling programs around the country."
Communities, recycling agencies and waste disposal companies can order customized versions of the videos. The logos, colors, size--even the shape and style of the bins--will be modified to exactly match the bins within each community. Mikey and Herb can even communicate special messages to serve the needs of a particular area.
These unique videos are available for use on community and recycling agency websites and on local cable or broadcast television. The 60-second and 30-second PSAs are supported by corresponding radio and print ads as well as graphics for truck signs, posters and other campaign materials.
There's little doubt that these lovable, entertaining characters will soon become household names--and help create unprecedented new levels of public participation in curbside recycling.
# # #