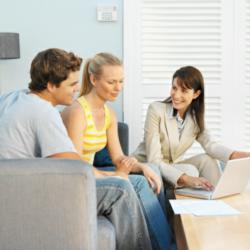 Los Angeles, Ca (PRWEB) January 18, 2013
In today's real estate market, some of the biggest real estate dilemmas that buyers must be equipped to deal with include the current trend toward contingent offers and multiple offers, as well as buying with bad credit, or a bankruptcy on buyer credit reports.
Contingent offers present a great challenge for buyers because having such an offer present means that an agreement has essentially been reached by both a buyer and a seller. However, new and interested potential buyers can present an offer, but only as a back-up. This offer stands in place if the initially executed agreement should fall apart, at which point sellers will negotiate.
A contingent offer is most often used by the seller's listing agent to pressure a buyer with a contract in place to move more quickly toward closing. It is not usually a viable solution for a buyer, although if a buyer truly wants a chance at a specific property, it's worth the time to leave a contingency offer in place.
Multiple offers create other real estate dilemmas. Such offers are an outgrowth of low housing supply and increased demand. Multiple offers mean more than one potential buyer places an offer for a single property at the same time. It doesn't refer to a counter-offer, although potential buyers can certainly change their offer to make it more attractive to a seller. This situation can lead to an eventual lowering of the best and final offer on the part of the buyer, as during the
contingency period on the property, problems or the necessity for improvements can be uncovered.
Bad credit and bankruptcy are two other real estate dilemmas. These credit issues are increasingly common in today's real estate market. Both issues should be addressed by buyers before making an offer on a property, to be taken seriously by the seller, and ascertain that loan acceptance is indeed possible. One of the best ways to approach a bad credit issue is by starting with a lender. Let this loan expert help with the mortgage process, by guiding and assisting with the credit repair process. The optimal goal is to improve a buyer's credit score. Although this can take some time to accomplish, it's not impossible by any means. Red Blue Realty's experienced team can assist by directing buyers through the process of credit repair.
Re-establishing credit after a bankruptcy can also take time, but is certainly achievable. The recent meltdown in the housing arena has created an environment in which bankruptcy is not unheard of. In fact, current sellers and mortgage lenders know these situations can occur even with the best of intentions. The key to buying a property is waiting two years from a bankruptcy discharge date. Once that date passes, potential buyers can contact lenders, and examine a current credit report. Based on this report, lenders can make solid suggestions regarding what property price range a buyer can qualify for; and note any old black marks on the credit report that can and should be removed.
Red Blue Realty's experienced staff note that if a home loss also occurred due to a bankruptcy filing, the date to apply new lending credit may be extended to three years rather than two.
Of course, there are some ways around this waiting period. Options are available including maintaining occupancy of a residence prior to closing, and paying rent until the closing date. Buyers should discuss these options with lenders, listing agents, and sellers to find the best solution.
Real estate dilemmas are best handled and overcome with the assistance of real estate experts such as Red Blue Realty.
Website: http://www.RedBlueRealty.com
Email: Contact(at)redbluerealty(dot)com
Phone Number: 1-(855) 66-RBREALTY or 1-(855) 667-2732