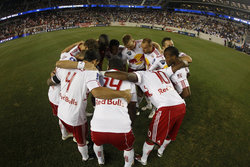 "I'm very happy to be here with my team. I want to thank Gol Marketing as well as Yucatan Holidays who have made us very comfortable in my country with my people, my family." -Rafael Marquez
Guadalajara, Mexico (PRWEB) February 18, 2011
The Red Bulls New York finished their preseason in Mexico with a 3-2 loss to First Division Mexican team Chivas in a friendly match held in Guadalajara on Tuesday.
The winning team was declared the champion for the Gol Marketing Cup and was offered a vacation stay in Hacienda Tres Ríos in the Riviera Maya.
Rafael Marquez and Thierry Henry along with the U.S. Major League Soccer team visited and trained in Mexico as part of their preseason. While in Mexico, the team kept busy with games, charity events, and press conferences.
The team's activities, sponsored by Yucatan Holidays, began on Tuesday, February 8th lasting until February 15th. The host resort was the travel agency's eco-luxury resort Hacienda Tres Ríos in the Riviera Maya.
French soccer player Henry said he was happy to be in Mexico and especially in the Riviera Maya. "Thank you for bringing us and thank you for the warm weather, it is a little cold in New York," he said during the press conference in Hacienda Tres Ríos held on Monday, February 7th.
Mexican soccer player Rafael Marquez said in a press conference on Monday, February 14th: "I'm very happy to be here with my team. I want to thank Gol Marketing as well as Yucatan Holidays who have made us very comfortable in my country with my people, my family."
During the press conference in Hacienda Tres Rios, the team donated autographed team shirts to children from the Cancun "Learning to Live with HIV and AIDS Association." Rafa Marquez also received 10,000 USD for his civil association Fundación Futbol y Corazon from Yucatan Holidays and Hacienda Tres Ríos.
The team played a friendly game in the popular tourist destination against First Division Mexican team Atlante where the Red Bulls won 4-3 in penalty shots.
The Red Bulls enjoyed the natural and beautiful attractions of the Riviera Maya. As part of their activities, part of the team—including Mexican idol Rafa Marquez—accompanied children with special needs to swim with the dolphins at Delphinus.
"This is a very special moment for me," Marquez said. "It is very important to give back all the love that Mexico has always given me and contribute in some way in the happiness and recovery of these kids."
The children had a chance to talk to the players, interact with the dolphins, and take pictures with their soccer idols.
The Red Bulls return home on Wednesday before embarking on their second trip of the preseason to Ft. Lauderdale, FL. The New Jersey-based team will open their season on March 19 when they host the Seattle Sounders FC at the Red Bull Arena.
About Yucatán Holidays
Yucatán Holidays is a visionary company committed to providing inspiring and sustainable travel experiences throughout the Yucatán Peninsula. It was founded by travel expert Erika Garcia in conjunction with the Sunset World. Yucatán Holidays works with local charities, the environment and the region's local community to provide unique holiday options and experiences to travelers. It offers opportunities to travel throughout the Yucatán Peninsula in an authentic manner, while ensuring that the local area benefits positively from ecotourism. Yucatán Holidays is also proud to support many charities and sustainable development agencies that assist the company in benefiting the areas in which it operates even further. For more information, visit the Yucatan Holidays Website.
About Gol Marketing
Gol Marketing and Scouting is a Global Sports Marketing Firm specializing in soccer with more than 15 years of experience and presence in 17 countries in North, Central and South America. They are also the main organizers for the Gol Marketing Cup. Among its business, the company manages the soccer marketing, providing consulting services in sponsorships and activations brands like Red Bull Mexico. It also provides goal scouting: maintaining current contracts with teams in Mexico, MLS and Europe to assist them in finding and recruiting players from Mexico, Central and South America. Juan Andres Samano, president and founder of Goal Marketing, legally represents in technical manager Enrique Meza, José Luis Sánchez Solá and players Louis Michel, Ramon Morales, Omar Arellano, among others. For more information, visit the Gol Marketing Website.
# # #