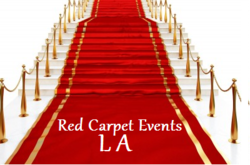 This luxurious event will be an "invitation only" lounge that will showcase an array of luxurious products and services.
(PRWEB) July 18, 2012
Various nominees, celebrities, directors and writers are expected to attend Red Carpet Events LA Style Lounge, which will be taking place at the SLS Hotel in Beverly Hills on Thursday July 19th, 2012. This luxurious event will be an "invitation only" lounge that will showcase an array of luxurious products and services such as Caribbean Living, which will be giving away all inclusive trips, custom shoes, skincare, handbags, cigars, travel goods, gourmet food and wine, kids items and so much more.
Over 50 sponsors in total will benefit this year's charities of choice: African Millennium (AMF) and Venice Art Foundations. AMF seeks to target poverty, hunger and disease at its very root by providing African women and children with the necessary tools for achieving self-sufficiency. African Millennium Foundation & CCH Pounder, AMF board member, along with the founders of Appli-cause are proud to be a part of an exciting Gifting Suite event with Red Carpet Events LA.
The collaborative approach to the AMF initiative will ensure the success of a Nossa Casa. The number of African children orphaned by AIDS continues to grow. However, this new model for housing, teaching and caring is taking root in Mozambique. The Venice Art Foundation seeks to help the youth.
This event will take place at the famous SLS Hotel in Beverly Hills and will have on hand sponsor companies who will be gifting Teen Choice's nominees, presenters, select celebrities, stylist and media with luxurious trips to the Caribbean.
Caribbean Living will be handing out 5 star resort trips to all guests with 4 luxury destinations to choose from the Caribbean.
Sponsors include:

Cosnova Inc - As a trendsetter in the entry-level segment for make-up, Cosnova Inc offers high-quality products at very attractive prices.
Do natural - Bringing fine skin and hair care products for the family in a effective yet gentle formula
Auriel's Touch - A leader in the Toronto beauty industry for non-surgical cosmetic enhancements.
Peter W Inc - "T-shirt is not Gentleman, Its one of the kind Women clothes with elegance that can fit into your closet and your life style."
Geek Eyewear - "The originator of fun optical fashion, offers unique individuality with a new collection of style that recalls the birth of cool."
Caribbean Living Magazine - The epitome of the Caribbean.
Make Love Not Trash - A handbag and accessory company focused on using natural, organic or eco-aware materials and non-toxic printing techniques.
Jewel Kade - "Somehow everything to everyone, and perhaps that's because jewelry that comes from the heart…speaks to the heart."
Source Entertainment Group (Australia) Pty Ltd
Dr. Kelly Hong, DDS - "If you've been thinking about getting cosmetic dentistry this is your woman. I love my smile! She's a total artist."
Luis Villatoro & Lorenzo Linares /Printland.net Digital Reproduction Center - "It is simply the best!"
Little Yellow Zpot - "Bringing the good news to parents and kids"
Amy Martinson Fine Art Nature & Landscape photography is dedicated to finding the wonders of the world that astound and inspire people.
Lip Smackers - The Original Fun Flavored Lip Gloss
Bluelizard Sunscreen - The #1 dermatologist recommended sunscreen.
Lorenzo Linares/ Paoprint- "We strive to exceed your expectations with every task we take on, and it is evident in our large regular clientele."
oka-bi footwear - 100% recyclable with designs based on the principle of ergonomics, resulting in the most comfortable and recyclable shoe on the planet.
lovepeanutbutter Peanut Butter & Co. - All natural gourmet Peanut Butter, delicious.
Beanitos - The Bean Based Chips have started the bean based revolution.
Justinsnubutter - Continue to produce and promote fresh nut butters that will always be simple, delicious and nutritious.
Multipure - Dedicated to better water, better health, and a better lifestyle
WhiteCoffe - Pride in bringing you the highest quality coffees, teas and beverages.
Skinnypop - Only 39 Calories per cup and Non GMO No Trans Fat No Preservatives
Life coach/Soul Blazing(TM) - Motivational speaker and world traveler who is a ...Soul Blazing(TM) and trans-formative coach
TXT Hugs LLC Statements • Sports • Go America! TShirts with meaning!
Sella All Natural Skincare - Uses ingredients that are completely natural.
The Elp On The Shelp - A Christmas Tradition is the very special tool that helps.
Rebelgreen - A brand of eco-friendly products responsibly made in the U.S.A.
Nuwati Herbals Inc. - "Where you will find natural remedies from the medicine cabinet of mother earth."
C2O Pure Coconut Water - Out-performs all other hydrating sport drinks and is quickly becoming the favorite of athletes and nutrition conscious
eMperfumes by folieM - "Compliment your mood with our four unique fragrances."
Pony Bracelet - Pony tail holders that can be worn as bracelets
Doggie Dental Aid - "If we can promote healthy gums, fight bad doggie breath then we will have healthy happy dogs."
Gogee Juice - Made of 100% juice blend of Goji berries known for numerous health benefits.
Twloha - A non-profit movement dedicated to presenting hope and finding help for people struggling with depression, addiction, self-injury and suicide
Red Carpet Events PR – http://www.RedCarpetEventsPR.com will help start conversation with the right people at the right time with the right message
3Wolves Productions.com - http://www.3wolvesproductions.com is known for making major quality films in Hollywood.
Red Carpet Events LA is known for producing exclusive events surrounding major celebrity awards shows, movie premieres, product launches and private entertainment industry related events.
Red Carpet Events LA will be accepting submissions for the 2013 Grammy's Gifting Suite for February 8Th, 2013.
Please contact Roger Zamudio at 310.592.7613 for more information.
Red Carpet Events LA produces Exclusive Luxury Celebrity and Media Gift Suites during the major Awards Shows. Red Carpet Events LA can also be contracted to produce Gift Bags for various charity and celebrity/media events.
Media Contact: Roger Zamudio / Red Carpet Events LA
Direct: 310.592.7613
Email: Roger(at)RedCarpetEventsLA(dot)com
http://www.RedCarpetEventsLA.com