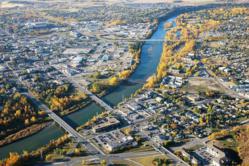 The public is waking up to the disconnect between the cost of selling their home and the services provided. We have set up our company to serve and that is what we will be doing.
Red Deer, AB (PRWEB) April 17, 2013
Alberta's Treasury Board & Finance released its Weekly Economic Review this past April 12, 2013. The key message of the review stated that the Alberta Housing Price Index has reached its highest gain in the last five years. Weeks before, the Treasury Board & Finance released their Economic Trends report indicating Alberta's continued growth in population. Much of this population growth has come from both within and outside of the country as skilled professionals enter the province to take advantage of the opportunities arising from the region's rich energy resources. These new migrants are seeking homes to accommodate themselves and the family units that come with them. Red Deer Alberta is at the heart of this activity and for Red Deer real estate teams like Benedict Devlin, these indicators certainly impact the local real estate business model.
Paul Devlin, part of the Benedict Devlin partnership with Rebecca Benedict, points out that the rise in the Housing Price Index puts a lot of money in play for those holding equity in Red Deer homes. The demand for these homes is also rising along with the increase in the population of skilled labor households. These homes, regardless the higher prices, will not sit idle. Red Deer real estate professionals see a lot of opportunity in this but it is within this framework that Benedict Devlin finds opportunistic abuse of the system which prompted their own team to make a dramatic change over the last few weeks. Benedict Devlin sees Red Deer real estate brokerages and agents with inflated commissions leaving less money in the pockets of homeowners. These higher commissions also impact buyers who may have to pay a higher price so that the seller can account for the high commission paid out to the agent. The agent is prevented by the brokerage from marketing lower commissions which creates a viscous cycle. None of this benefits the homeowners or prospects. Benedict Devlin had enough and formed an independent brokerage last month.
With this new Red Deer real estate firm and office location, Benedict Devlin can take full advantage of the opportunity that comes with the economic trends and indicators of the region while doing so in a manner that is fair to homeowners and prospects alike. As a new independent brokerage, Benedict Devlin has chosen to introduce a low flat rate commission structure which they state will save the average home owner thousands of dollars. In addition, as a part of their marketing strategy they will accomplish this by maintaining a premium level of service. There will be no loss in service.
Paul Devlin comments on the state of affairs of real estate in Red Deer and how his team is responding, "Alberta has a fabulous set of core values but as we drill below the surface we find examples of exploitation and entitlement for those that are willing to take it. This is not the way of the world for most Albertans and we want to honor these people by truly serving our neighbors and the communities we live in. Real estate is a local business for everybody involved. It doesn't make sense that it's being conducted to protect a business model of a national franchise that doesn't even live here. The public is waking up to the disconnect between the cost of selling their home and the services provided. We have set up our company to serve and that is what we will be doing."
Benedict Devlin encourages households hoping to gain the most value from the economic trends occurring in Central Alberta, whether buying or selling a home, to contact their Red Deer real estate team today.
ABOUT Benedict Devlin Red Deer Real Estate
Our success in Red Deer real estate is measured not in the number of transactions we do in a year, but the quality of the experience our clients have enjoyed. We'll do what it takes to make your moving experience so remarkable that you'll be telling your friends. Nobody will care more for you than our community real estate firm, that's the Benedict Devlin promise! Contact our Red Deer Real Estate Team today.