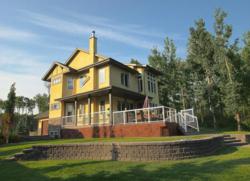 Selling existing homes in a market full of new construction developments is not a challenge with the right system on your side
Red Deer, AB, Canada (PRWEB) April 24, 2013
Alberta's Treasury Board & Finance released their Weekly Economic Review on April 19, 2013. One major point of the Economic Review that was picked up on and validated for local real estate professionals was the fact that Alberta continues to stand apart from the national average when it comes to the prices of existing real estate. It was reported that the average re-sale home price was approximately $382,350 which is a significant 6.4% gain from the year previous. While not as dramatic in scale, the overall sales of existing homes also moved up 1.2% for a reported total of 5,184 re-sales. What is most noteworthy in all of this is that nationally existing home sales dropped nearly 10% while the prices barely budged. It's a seller's market in Alberta at the moment and for Kevin Lapp and his Red Deer real estate team the message is clear. To maintain their prominent position Kevin Lapp has created a marketing message to convey that they are different from many Central Alberta Realtors in that they have the most integrated Red Deer home selling service around. Kevin Lapp understands that such a marketing message may sound par for the course but for a team that is renowned for offering new construction Red Deer homes and Central Alberta acreages for home building initiatives they know that they must tread lightly in this new marketing strategy.
Central Alberta, with its energy rich resources and nationally strong job market is a growing residential and commercial real estate entity. The Kevin Lapp real estate team considers itself one step ahead by being involved in as many new construction transactions as viable in the surrounding communities of Sylvan Lake and Red Deer. However Kevin Lapp remembers that his "bread & butter" has always been found in his teams' ability to sell existing homes for clients at a fair market price and in a quick turnaround time. Kevin Lapp quotes this strength to come from their unique service strategy that combines the following; an owned database of pre-qualified buyers, integrated team post-purchase follow-up systems, customized photo/video tours of properties, a strong social media platform for showcasing client homes, and listing access 24 hours per day / 7 days per week. By drawing new attention to his home selling system, Kevin Lapp hopes to remind existing home sellers that his team can respond to the current trend in Alberta real estate better than most.
Kevin Lapp comments, "I know where I came from and although our team will continue to attract national and international residents into affordable new community developments near Red Deer we want current home owners to know that we have always been here to serve them, and will continue to do so. Their existing homes can serve the same needs of those moving to and within Central Alberta and we will sell their homes at fair market prices without fail. Selling existing homes in a market full of new construction developments is not a challenge with the right system on your side."
Kevin Lapp and his Red Deer real estate team encourage anyone looking to capitalize on the success of the Red Deer real estate market to contact his Red Deer realty team today to learn more about their home selling strategy.
ABOUT Kevin Lapp Red Deer Real Estate
The Kevin Lapp Real Estate Team is a handpicked team of real estate professionals put in place to cover every aspect of the process so that the client, whether buying or selling a home, has complete confidence that they are in the best of hands. Equipped with industry leading methods such as Maximum Exposure Advertising initiatives and Guaranteed Sale Programs, the Kevin Lapp Real Estate Team offers unparalleled client service for anyone buying or selling a home in the Red Deer region. Contact our Red Deer Real Estate Team today.