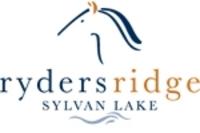 Ryders Ridge also offers the benefit of free choice
Red Deer, Alberta (PRWEB) October 9, 2009
Calgary-based Lamont Developments Limited is thrilled to announce that Ryders Ridge, located in the Town of Sylvan Lake, Alberta, has been selected as the location for the Grand Prize in the Shock Trauma Air Rescue Society's (STARS) 2010 Lottery. This is the second year that this award-winning 150-acre development has been selected as the site for the Central Alberta STARS Lottery Home.
"This 2,500-square-foot, two-storey home by Falcon Homes is currently under construction in the estate section of our real estate development. It will be open for public viewing in February 2010," says Lamont Developments owner and project manager, John Gordon. "As is customary in Ryders Ridge, this home features extraordinary architectural details both inside and out. It is also close to shopping, an elementary school and the beautiful Four Season's Park."
Red Deer and area residents are encouraged to support STARS by purchasing tickets to win the Dream Home, but Gordon adds that you don't have to depend on "Lady Luck" to become part of this vibrant new community.
"This is an excellent time to purchase new home in Ryders Ridge," says Gordon. "Interest rates are lower than they have been in decades, we have an amazing selection of lots available in Phase 2A and 2B, as well as the estate section and, if you buy now, you could be in your new home by spring.
"Ryders Ridge also offers the benefit of free choice," Gordon states. "We have assembled some of the finest builders in the Red Deer region to help you build the home of your dreams. The select includes Abbey Master Builder, Asset Builders, Candel Homes, Falcon Homes, Mason Martin Homes, Somerset Homes and Unique Elevations. You choose the lot you love and then select your builder. This results in healthy competition and enables you to select from a variety of superb designs at a fair price."
Recognizing that "location" is one of the most important considerations when purchasing real estate, Ryders Ridge has much to offer. Located just 16-kilometres west of Red Deer and only 90-minutes from both Calgary and Edmonton, the Town of Sylvan Lake is an excellent choice for a permanent family resident or a vacation get-away home.
ABOUT RYDERS RIDGE:
Ryders Ridge has grown to be one of the most desirable real estate developments in the Sylvan Lake/Red Deer real estate market. Located adjacent to Four Season's Park and connected to the CPR pedestrian pathway, this new residential community boasts an abundance of green space, access to shopping and an existing elementary school. Located at the heart of this lake community; Ryders Ridge also offers easy access to a myriad of recreational activities, such as golf, fishing and other outdoor pursuits.
To create Ryders Ridge, Lamont Developments worked closely with the township, planners, builders and architects to design and build a community with a harmonious architectural theme and a genuine sense of community. They then hand-picked seven of Central Alberta's best builders - renowned for their individual commitment to quality and customer satisfaction.
Within a year of the sub-division's initial opening of Phase I, Ryders Ridge was presented with the 2008 SAM Award of Excellence for Best New Community in Central Alberta.
ABOUT LAMONT DEVELOPMENTS & RYDERS RIDGE BUILDERS
With a fundamental respect for land and people, Lamont Developments Limited has been building great homes and neighborhoods in Alberta for the past 16 years. Lamont has built and created successful small town communities in places such as Sylvan Lake, Airdrie and Spruce Grove. Strong principles, attention to detail and ability to deliver make Lamont communities an ideal place to live.
###