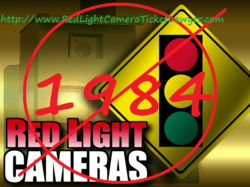 I am seeking to get red light cameras thrown out as unconstitutional.
Sacramento, CA (Vocus/PRWEB) February 23, 2011
Matthew Becker, a traffic and DUI attorney in Sacramento and the Bay Area, wants red light camera tickets declared unconstitutional. He has five lines of legal arguments against red light tickets ready to test in the court systems. His goal is to test them all in order to maximize the chances of getting red light cameras removed throughout California, or even nationally. To do this, he needs 10 to 15 clients from each county in Northern California that has red light camera tickets to appeal their cases with him.
"I am seeking to get red light cameras thrown out as unconstitutional," said Becker. "The Supreme Court has said that the defendant has a right to confront his accuser, yet I have never heard of a Redflex employee showing up to testify at a red light camera ticket trial. It is Big Brother run amuck." Becker continued, "The Supreme Court said that we have a right to privacy that 'emanates from the penumbra' of the Bill of Rights—but now we have Big Brother Redflex!"
More than illegal, Becker believes red light camera citations are hazardous. The National Motorists Association notes that fives studies prove that the cameras increase accidents at intersections. One of the studies, by the Virginia Transportation Research Council concluded:
"After cameras were installed, rear-end crashes increased for the entire six-jurisdiction study area… After controlling for time and traffic volume at each intersection, rear-end crash rates increased by an average of 27% for the entire study area."
For more information about traffic or DUI laws or to appeal a red light camera citation, contact The Becker Law Practice at (916) 668-4723 or view them on the web at http://www.californiaduilawyers.co, or visit their office located at 25 Cadillac Drive; Suite 270, Sacramento, CA 95825.
About The Becker Law Practice
The Becker Law Practice is an provides representation for clients accused of Driving Under the Influence (DUI), or traffic and red light tickets in Sacramento and Bay Area Courts. Matt Becker, a DUI attorney for San Jose, Bay Area and Sacramento, has helped dozens of wrongfully ticketed individuals challenge red light tickets successfully.
###