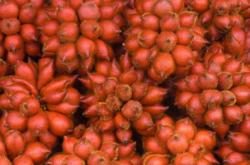 This ingredient can be useful for heart health as well as in weight reduction strategies according to the new report.
San Francisco, California (PRWEB) January 08, 2013
The iTrustNews.com company has published a new report that features the benefits of red palm oil in 2013. This new dietary additive has been tested by researchers and has been introduced on the Dr. Oz television program in the U.S. This new oil is sold by some retailers and is expected to become one of the new superfoods that men and women can add to daily eating routines in an effort to reduce body weight, maintain healthy brain activity and fight off free radicals inside the body.
There are many different versions of essential oils that the body uses on a daily basis to fight off infections and improve the cardiovascular system. The various types of almond oil, olive oil, flaxseed oil and others are often recommended as healthy oils to use with meals. The new research that was conducted for the palm oil in its unprocessed form provided the basis for the new iTrustNews.com report.
Processing of this oil is what can destroy the health benefits. Some food companies used red palm oil in its natural state and process it during the flavor adding process. According to the report, this processing is what removes any health benefits and adds unnecessary preservatives to the mixture.
One of the active ingredients inside of palm oil is Tocotrienol. This is related to the Vitamin E family and can be found in small doses in vitamins and other minerals. This ingredient can be useful for heart health as well as in weight reduction strategies according to the new report. High levels of Tocotrienol are found only inside of the virgin red palm oil that is not processed through the natural food preparation process. This essential oil is meant for adding to foods in small doses and not meant for drinking.
Those that seek fitness, health and wellness strategies could benefit from learning how to include this essential oil into a daily eating routine. Since this oil is sold in its unprocessed form, no additives or other ingredients are included. According to the Dr. Oz report and iTrustNews, this oil is one of the safest to include in a dietary plan due to the variety of health benefits that it possesses. 
The iTrustNews.com report is expected to be updated with new retailer stock information and pricing data for this new product. It has recently been released in the U.S. and not all retailers have stocked this product. The new report details a list of where it can be purchased online.
About iTrustNews
The iTrustNews company was founded in 2011 and has remained a leader in the distribution of independent news. By staffing this company with researchers and an editorial staff, syndicated news stories are now distributed to hundreds of online media outlets. The new consumer reviews section added last year was designed to bring discount information to online shoppers. The iTrustNews company frequently updates its lists, guides and published reports to help men and women making purchases online to find the best discounts possible.