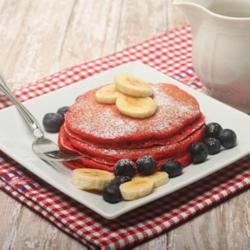 The secret: adding LorAnn's Red Velvet Baking Emulsion to the batter!
Lansing, MI (PRWEB) May 02, 2013
A stack of golden pancakes topped with maple syrup is simple perfection, but special occasions call for some creativity and flair. To help hosts of Mother's Day brunches infuse some spice and a gourmet feel to menus this year, LorAnn Oils is sharing two flavor-filled recipes that are sure to be as pleasing to the eye as they are to the palate.
Red Velvet Pancakes: For the majority of us who cannot get enough of this Southern dessert classic, red velvet pancakes are sure to please! The secret: adding Red Velvet Baking Emulsion flavor to the batter. The emulsion gives pancakes both a hint of citrus flavor and a gorgeous red hue--the ultimate indulgence for red velvet lovers.
Lemon Blueberry Dutch Pancakes: Natural Lemon Bakery Emulsion lends a pleasing punch of citrus flavor to these international delicacies. The batter is poured into a sizzling skillet and then transferred to a hot oven where dutch pancakes rise while cooking, then fall as they cool. The result are plate-sized pancakes that are light, airy and delicious.
To see the recipe for Red Velvet Pancakes, go to: http://pinterest.com/pin/63402307224670585/.
For the Lemon Blueberry Dutch Pancakes recipe, go to: http://pinterest.com/pin/63402307226772220/
Baking Emulsions are ideal for flavoring baked goods including cakes, cookies, muffins, frostings and glazes. Flavor recipes from scratch or add to a favorite boxed mix for an added burst of flavor.
For more fabulous recipes and to browse LorAnn's extensive stock of flavor extracts including Bakery Emulsion flavors such as the Natural Orange and new Raspberry flavors, check out our online store and join our Facebook community at http://www.facebook.com/LorAnnOils.
About LorAnn Oils:
Family-owned and operated since 1962, LorAnn Oils is a wholesaler and retailer of high-quality, gourmet flavorings, essential oils and fragrances catering to both the home consumer and small companies including bakeries, cake-pop businesses, cupcake businesses, candy makers, popcorn shops and more.
Our products are sold in the United States and throughout the world. LorAnn products can be found in grocery stores, gourmet retailers, pharmacies, craft stores, and cake & candy supply shops.