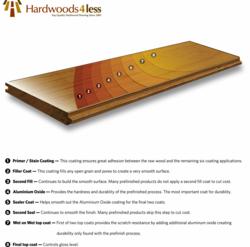 With the additional stain colors, customers have more of a variety to choose from.
Greensboro, NC (PRWEB) August 14, 2012
Hardwoods4less announces the latest expansion of stain color options for Red Oak hardwood flooring. Stain colors now include Butterscotch, Honey Rose, Gunstock, Warm Walnut and Cherry Oak.
Clayton Peebles, owner of Hardwoods4less says, "With the additional stain colors, customers have more of a variety to choose from. The different colors can match any home decor, which homeowners find appealing."
Using a darker stain color like Cherry Oak over Red Oak hardwood flooring has been a popular alternative to purchasing expensive, exotic hardwoods. Consumers can acquire the look and feel of higher-end flooring without paying the cost, or sacrificing quality or durability.
Red Oak is the industry standard hardwood. It is the hardwood all others are compared to when determining relative hardness. On the Janka hardness scale, Red Oak hardwood flooring has a score of 1290.
It stands up well to day-to-day living and high-traffic areas, making it a great match for families of children and pets. It has even greater protection with the advanced-technologies of the Hardwoods4less 8-step pre-finishing process, which creates a durable top coat that is highly resistant to dents and dings.
The colors of Red Oak hardwood flooring range from light brown to dark brown, with a tint of red, hence the name.
Red Oak is a widely accessible hardwood, but with the addition of several color stains, and each wood's unique, inherent grains, consumers are sure to have hardwood flooring with a look all their own.
Peebles says, "We want to help create a lifestyle for our customers that's affordable. We can do that by pairing a durable, yet cost-effective hardwood flooring species, with stains that match the colors of our most richest, expensive, pined-over woods."
Hardwoods4less adds five new stain options for Red Oak hardwood flooring to their lineup. The stain options allow homeowners a high-quality look and feel, without paying the price.
For homeowners and businesses interested in more information about Red Oak hardwood flooring and the array of stain options, visit http://www.hardwoods4less.com.
Affiliations:
Better Business Bureau
National Hardwood Flooring Association