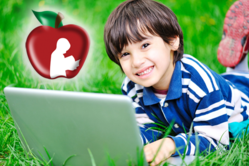 We want parents to be able to take advantage of promotions like this and use the software to benefit their children."
Beaumont, CA (PRWEB) January 15, 2013
With households looking to do more with fewer funds these days, more families are stretching their budgets. However, no parent should have to sacrifice the chance to help their child gain valuable early reading skills. That's why Tammy Bennecke, a long-time former educator and founder of Red Apple Reading, sought out a way to make her program affordable to families everywhere.
Thanks to a new initiative, Bennecke unveiled an exciting new partnership with "Living Social," an online deals site that connects shoppers with discounts on the products they want most. Since January 9, parents have been able to access Red Apple Reading at a very affordable rate through the smart shopping site's "Families" section.
Bennecke first decided to approach Living Social with the idea for a partnership several months ago. Once the site reached out to her, she jumped at the chance to collaborate and create coupons for parents to use to buy Red Apple Reading's program, currently Level A and soon to include Level B (scheduled release summer 2013), which all new customers will have access to. The program has many benefits for both parents and teachers, who can access the program's Progress Reports to evaluate how reading skills are being addressed, gained, and (most importantly) retained.
Since launching the deal with Living Social, more than 200 eager users have taken advantage of the discount, a figure that has pleasantly surprised Bennecke and other Red Apple Reading staffers.
"In the first three days, we had an explosion in web traffic to our site, people visiting and signing up for the program from over 30 states in the U.S., and many, many more children using the software," Bennecke said.
While Bennecke is happy that parents can take advantage of this deal, she's most excited about the potential benefits of having Red Apple Reading at the fingertips of an ever-increasing amount of young learners.
"This is a great way to help get the word out that Red Apple Reading is available to help children learn to read," Bennecke added. "We want parents to be able to take advantage of promotions like this and use the software to benefit their children."
The Red Apple Reading/Living Social deal is available until January 22, 2013. More information on taking part in the promotion can be found by visiting the Living Social website. Following this initial success, other coupon sites have requested similar promotions with Red Apple Reading, which Bennecke is planning to explore. Parents and educators can keep up on the latest promotions and deals available by following Red Apple Reading's Facebook page or one of their other social media pages.
About Red Apple Reading:
With offices in Southern California, Red Apple Reading was founded in 2011 by educator Tammy Bennecke. The company is in the process of developing a full range of pre-kindergarten through third grade reading products, available both online and as mobile apps. Red Apple Reading plans to expand into other subject areas as the company's growth continues. Find out more about Red Apple Reading at http://www.RedAppleReading.com.