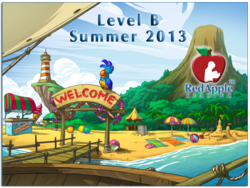 We want young readers to keep developing the critical reading skills they need, giving them a jump start on their education for the next school year.
Beaumont, CA (PRWEB) April 17, 2013
With another school year whizzing by for educators, students, and parents, it's no surprise adults are a bit worried about the reading retention of youngsters. The summer months, for most children, are a time when splashing in the pool, playing with friends, and just "being a kid" can cause crucial reading retention to take a back seat. Luckily, Red Apple Reading developers are working now to kick off their latest offering during these dog days of summer—and, with any luck, will give kiddos a whole new way to enjoy reading with the interactive, online program during their summer hiatus.
This summer, Red Apple Reading and its partners at CodeIT plan to roll-out "Level B," the latest offering from Red Apple Reading. Level B promises to challenge young readers in innovative and exciting new ways, building on the successes of Level A, while providing more robust reading activities, an even more responsive program set-up, and increased opportunities for young readers to learn the vital language skills necessary to being successful readers for life.
Tammy Bennecke, founder of Red Apple Reading, notes that partnering with CodeIT was a well-researched choice, and she and the rest of the Red Apple Reading team found CodeIt's philosophy and company structure to be well-aligned with the goals and configuration of their own company.
"We evaluated over 50 companies before choosing CodeIT, based on their high level of expertise, proven successful track record, professionalism, and, of course, price, which is a consideration since we are a debt-free, privately- funded company," Bennecke said.
The roll-out of Level B will also include expanded graphics and activities, thanks to the help of new developers and animators. Bennecke plans to showcase updates and "teasers" of the Level B upgrade through the Red Apple Reading Facebook page, drumming up as much excitement for the new program as possible.
More than anything, Bennecke says, breathing new life into Red Apple Reading at a time when many young learners tend to take a break from their reading skills is a way to foster engagement.
"Summer is a time when many readers can actually fall behind in the progress they've worked so hard to make during the school year," Bennecke said. "By offering new, exciting facets to our reading program during the summer break, we hope to maintain a high level of engagement in our program. We want young readers to keep developing the critical reading skills they need, giving them a jump start on their education for the next school year."
About Red Apple Reading:
Red Apple Reading is a Montana company founded in 2011 by educator Tammy Bennecke, with offices in Southern California. The program is now being used by public, private, and homeschool parents and educators across the country, with mobile apps available this summer. In addition to developing a full range of reading products, Red Apple Reading plans to expand into other subject areas as the company's growth continues. Find out more about Red Apple Reading at http://www.RedAppleReading.com.