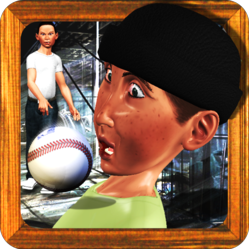 It's time to face your fears and stand up to Rodger once and for all.
ON, Canada (PRWEB) May 30, 2013
In Rodger Dodger players face off against Rodger Tuffguy, the school bully and town hooligan who's up to his old tricks. Rodger has broken into the clubhouse and stolen everyone's favourite belongings.
Darla's drum, Clarence's trumpet and Charlie's ukulele are only some of the things that are missing. This time Rodger's gone too far, it's time to stand up to him once and for all.
Players must dodge Rodger's arsenal of projectiles and reclaim what is rightfully theirs. The player recovers the stolen possessions by completing Rodger's challenges and collecting the items that have been dropped along the way.
Features:
— More than 35 challenges with increasing difficulty
— Over a dozen different projectiles to dodge
— Action packed gameplay
— Unique game type; the "Endless Dodger"
— Easy to use tilt and swipe motion controls
With its reflex testing gameplay Rodger Dodger will test a gamer's mettle and keep them coming back for more.
More information including screenshots and trailer video can be found on the developer's website redbarngames.com. The game can be downloaded from the App Store appstore.com/rodgerdodger.
About the Developer: Red Barn Games is an independent casual mobile game development studio. Our mission is to create fun, challenging, G rated games. Previous titles include a retro soapbox racer, Good Ol' Days Soapbox Racing and an action puzzle game, Egg Foo Yung.
App Details:
App Name: Rodger Dodger
Developer: Red Barn Games Inc.
Launch Date: May 30, 2013
Cost: Free
Category: Games – Action – Arcade
App type: native app
Platforms: iOS (Universal)
Publisher:
Red Barn Games Inc.
Ontario, Canada
http://www.redbarngames.com