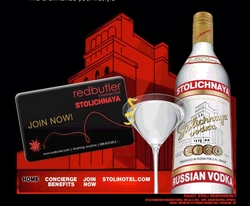 A Great Way to Get Organized for 2008
Los Angeles, CA (PRWEB) May 8, 2008
This summer, Red Butler, the premier global concierge company, has teamed up with Stolichnaya® Vodka, the genuine Russian vodka, to present the ultimate in concierge and personal assistant services-the Stoli® Hotel Concierge.
Through this exclusive partnership with Stoli, Red Butler will offer empowering and luxurious Stoli Hotel Concierge memberships*. As a Stoli Hotel Concierge member, Red Butler will place calls, make reservations, book appointments, research, purchase and do just about anything imaginable to prioritize time. Members will also gain access to upcoming Stoli Hotel events, keeping them on the A-list, and will receive VIP treatment from Red Butler partners across the nation.
Stolichnaya launched the Stoli Hotel in Los Angeles in 2007. Modeled after the iconic Hotel Moskva, the Stoli Hotel features individually designed guest rooms, hip bars and deluxe spas, all inspired by the Stoli flavor portfolio. The Stoli Hotel features the latest in cutting-edge music, film, design and fashion.
Red Butler's collaboration with ultra-premium companies, such as Stolichnaya, illustrates the ongoing demand for time-saving and lifestyle services. With the launch of Stoli Hotel Concierge, Red Butler's corporate portfolio includes spirits, apparel, communications, and hotel and residential properties.
The Stoli Hotel Concierge Membership offers consumers a bold 20 percent discount* on Red Butler Concierge Memberships and has three levels available-Stoli Hotel Basic Membership for $29.56 per month, Stoli Hotel Plus Membership for $69.56 per month, and Stoli Hotel VIP Membership for $132.76 per month. For more information, visit your local wine and spirits retailers and look for the Stoli Hotel Concierge display or go online to http://www.stolihotel.com/redbutler and sign up today. And remember, the next time you need something taken care of, Red Butler and the Stoli Hotel Concierge will help you get it done! *No Stolichnaya Vodka purchase required. Offer prohibited in AL, HI, IN, MS, TX and UT. Max discount for CA is $5.
About Red Butler:
Red Butler has redefined the concierge industry, providing global concierge services to individuals, corporations, residential buildings, and hotels across the nation. Their nationwide local benefits network and 24 hour presence provides an affordable and attractive solution to lifestyle services, and is now the fastest growing concierge and lifestyle service company.
CEO & Founder Daniel Abas, MBA, an entrepreneur and native Angelino, fused his education in international business, with his background in entertainment, technological skills and passion for exploration to form a global and formidable concierge company.
http://www.redbutler.com
About Stolichnaya®:
Stolichnaya has established itself as the most trusted name in vodka, guaranteeing Russian authenticity, quality and expertise in each bottle. Decades after the brand's birth, Stoli remains the best selling Russian vodka in the United States, valued for its premium ingredients, unique filtration process, and consistently superb taste.
As part of its unique history of innovation, Stoli was the first imported premium vodka in the U.S. in 1965, the first to introduce flavored vodkas in 1986, as well as the first to establish an ultra-luxury category with Stolichnaya elit®. http://www.stoli.com and http://www.stolihotel.com
About Pernod Ricard USA:
Pernod Ricard USA urges all adults to accept responsibility when considering consuming alcoholic beverages. For more information, please visit: http://www.AcceptResponsibility.org
Pernod Ricard USA, based in Purchase, N.Y., is a leading producer, importer and marketer of prized spirits and wine brands in the United States and is one of the fastest growing subsidiaries of the world's #2 spirits company and #4 wine company, Paris, France-based Pernod Ricard, S.A. The completion of Pernod Ricard's acquisition of Allied Domecq in 2005 vaulted Pernod Ricard USA to the forefront of the U.S. spirits market, doubling the company's sales value and market share. The company is now the third largest in the U.S. spirits industry by sales value and the fifth largest by sales volume in the U.S.
Pernod Ricard USA's leading brands include Kahlúa® Liqueur, Chivas Regal® Scotch Whisky, Seagram's Extra Dry Gin®, Malibu® flavored Rum, Stolichnaya® Vodkas, Jameson® Irish Whiskey, The Glenlivet® Single Malt Scotch Whisky, Wild Turkey® Bourbon, Beefeater® Gin, Hiram Walker® Liqueurs and Martell™ Cognac, as well as Jacob's Creek® and Brancott Estate® wines, Perrier-Jouët® Champagne, GH Mumm® Champagne and Mumm Napa® wines, and Pernod® and Ricard® Liquors.
Press inquiries:
Kerith Henderson
Quintessential PR
Kerith@quintessentialpr.com
310-582-5882 ext. 224
Red Butler Corp.
8306 Wilshire Blvd.
Beverly Hills, CA 90211
888.288.5372
http://www.RedButler.com
Recent Press:
"Top 10 Companies of 2007" - L.A. Times
"A Great Way to Get Organized for 2008" - Entrepreneur Magazine
"Restaurants, Golf, Wine" - Maxim Magazine
"When All Else Fails" - CBS Early Show
###