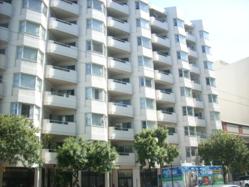 The Red Capital Group teams' across-the-board knowledge and deep experience financing affordable housing transactions was fundamental to helping us navigate and secure capital.
Columbus, OH (PRWEB) December 21, 2011
Red Capital Markets, LLC (MEMBER FINRA/SIPC) and Red Mortgage Capital, LLC, respectively the investment banking and mortgage lending entities of comprehensive capital provider RED CAPITAL GROUP, LLC, recently provided a creative combination of bond underwriting and mortgage banking services related to the substantial rehabilitation of a low income multifamily/seniors housing property in downtown San Francisco's South of Market ("SoMa") neighborhood.
The complex transaction utilized a $33,200,000 conventional/taxable GNMA-backed/FHA Section 221(d)(4) Substantial Rehabilitation loan processed and funded by Red Mortgage Capital, LLC and held as collateral for a $16,700,000 2011-B Series of short-term, tax-exempt multifamily housing revenue bonds underwritten by Red Capital Markets, LLC, which will "bridge" the receipt of 4% LIHTC equity proceeds being provided by Bank of America.
The structure also included $16,500,000 of New Issue Bond Program ("NIPB") proceeds, which were released from escrow simultaneously upon the issuance of the Series 2011-B Bonds. The NIBP was a special, temporary program launched by the U.S. Treasury to support the development of new or rehabilitated affordable multifamily rental units. Under NIBP, the U.S. Treasury purchases program-specific HFA bonds that are credit enhanced by a GSE (Government Sponsored Enterprise), or backed by a GNMA security. Both the 2011-B and NIPB series of bonds were issued by the California Housing Finance Agency ("CalHFA").
Woolf House is a 182-unit, high rise structure located on Howard Street near the Moscone Center and just blocks away from the Financial District. Eight studio units and 174 one-bedroom units comprise the community. Pursuant to a 20-year Section 8 HAP Contract, all units are offered to low and moderate income seniors who earn 50% or less of area median income levels and are at least 62 years old. Rents for qualifying tenants also are restricted to not exceed 30% of their income level.
The project sponsor is TODCO Group ("TODCO"). Founded by residential hotel tenants displaced from redevelopment projects nearly 45 years ago, TODCO today is a community-based nonprofit institution whose mission as "South of Market Neighborhood Builders" is to maintain SoMa's longtime working class, immigrant, and elderly communities as an integral part of their neighborhood's future. In addition to developing housing utilizing city, state, and federal programs, TODCO directs the management of its properties and provides supportive services for their residents. Since 1978, the TODCO Group has built eight affordable housing developments totaling 1,000 units in San Francisco's booming South of Market neighborhood.
In seeking a way to help Woolf House undertake an overall project revitalization, a highly experienced group of Red Capital Group, LLC investment and mortgage banking professionals structured the multi-faceted solution that utilized all available sources of capital, including the New Issue Bond Proceeds which had been issued previously by CalHFA.
Richard R. Andrews, Senior Managing Director of Red Mortgage Capital, LLC and lead banker for securing the FHA Insured Mortgage loan said, "Many years ago, TODCO started work in this community advocating and providing housing for those affected by redevelopment. We are honored to have a role in their continuing mission by working with the HUD San Francisco office to secure this non-recourse financing."
Nicholas A. Hamilton, Managing Director of Red Capital Markets, LLC added, "The expertise of the various bankers, attorneys, CalHFA staff and other professionals was vital to achieving a successful structure that met the myriad debt and equity requirements necessary to preserve this affordable housing stock. This was our second transaction with TODCO and we are pleased to again serve as the banker on this unique transaction."
Renovations to the project are anticipated to be completed on or before July 2013.
John Elberling, President of the TODCO Group. said, "The Red Capital Group teams' across-the-board knowledge and deep experience financing affordable housing transactions was fundamental to helping us navigate and secure capital. We appreciate their efforts to help us succeed in achieving our goals for Woolf House."
Operating nationwide since its inception in 1990, Red Capital Group, LLC is recognized for its industry expertise, innovative and comprehensive structures, and consistently high lender rankings, including having closed more FHA Multifamily & Healthcare loans during HUD FY-2010 than any other lender and remaining active as a top Fannie Mae DUS® lender for both multifamily and seniors. Red Mortgage Capital, LLC's nationwide agency platform includes Fannie Mae DUS, Freddie Mac Seller/Servicer for Seniors, and FHA MAP and FHA LEAN lending for multifamily, seniors housing and health care properties.
Red Capital Group, LLC is committed to being the nation's premier provider of capital across the spectrum of asset classes.
About Red Capital Group, LLC
Red Capital Group, through three operating companies, provides integrated debt and equity capital to the multifamily, student and seniors housing, and health care industries. Red Mortgage Capital, LLC is: a leading Fannie Mae DUS® lender for both Multifamily and Seniors Housing; the nation's most active FHA Multifamily/Seniors lender (MAP- and LEAN-Approved); a national Freddie Mac Seniors Housing Seller/Servicer; an active financier of Critical Access, community and rural hospitals; and services more than $14 billion of income property mortgage loans. Red Capital Markets, LLC (MEMBER FINRA/SIPC) is: a leader in the trading and distribution of Fannie Mae and GNMA Project MBS; an active underwriter of developer-driven multifamily housing bonds; and also is remarketing agent for $1.5 billion in variable rate demand tax-exempt and taxable housing and health care bonds. Red Capital Partners, LLC delivers proprietary debt and equity to the multifamily and health care industries and provides asset management services for RED's proprietary debt and equity investments.
Red Capital Group is headquartered in Columbus, Ohio, employs more than 200 and maintains nine offices nationwide. Since 1990, the bankers of RED CAPITAL GROUP have provided over $52 billion in taxable and tax-exempt first mortgage debt, mezzanine level capital and equity to multifamily, seniors housing, health care, and other real estate properties nationwide. RED CAPITAL GROUP is a subsidiary of ORIX USA Corporation.
About Our Parent ORIX USA Corporation
ORIX USA Corporation (http://www.orix.com) is the U.S. subsidiary of ORIX Corporation, a publicly-owned Tokyo-based international financial services company established in 1964. ORIX Corporation is listed on the Tokyo (8591) and New York (NYSE:IX) stock exchanges. ORIX USA Corporation is a diversified corporate lender, finance company, and advisory service provider with more than $6 billion in assets and an extensive portfolio of credit products and advisory services. ORIX USA is headquartered in Dallas, Texas and has approximately 1,400 employees worldwide.
Red Mortgage Capital, LLC is a licensed FHA MAP and FHA LEAN lender.
DUS® is a registered trademark of Fannie Mae.
###