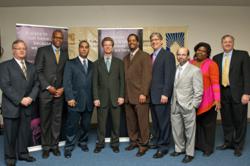 The FHA commitment was secured just 41 days following submission of the application.
Columbus, OH (PRWEB) April 24, 2012
Red Mortgage Capital, LLC, the mortgage banking arm of comprehensive capital provider RED CAPITAL GROUP, LLC is pleased to announce it processed and funded a $9,570,000 FHA 221(d)(4) insured mortgage commitment through HUD Chicago for the historic Pullman Wheelworks, a 210-unit affordable housing apartment building on Chicago's south side. The FHA commitment was secured just 41 days following submission of the application.
Project sponsors Mercy Housing Lakefront and National Housing Trust/Enterprise Preservation Corporation recently hosted a tour of the newly acquired property to highlight the latest preservation strategies they are employing together to address the region's affordable housing crisis. Attending the gathering was the Honorable Shaun Donovan, U.S. Secretary for Housing and Urban Development.
Pullman Wheelworks, built in 1903 as part of a working community developed by railroad industrialist George Pullman, is listed on the National Register of Historic Places and is being redeveloped and preserved as part of an overall neighborhood revitalization plan anticipated to occur over the next several years.
The substantial rehabilitation of the project, scheduled for completion in approximately 18 months, will include major renovations to kitchens, bathrooms and balconies, new windows throughout, and new and expanded common space areas. Having last been rehabbed in 1980, the revitalization will ensure the long term economic viability of the project, thereby preserving essential housing for the low income residents of the area. The project has 122 one-bedroom units; 28 two-bedroom units; 54 three-bedroom units and 6 studio units. The community is fully leased at present except for 10 leases that were allowed to lapse in order to provide temporary housing for tenants while their own units undergo renovation.
The financing had multiple layers of capital and a very tight time frame in which to secure the FHA commitment - a key component of the financing. Ultimately, the complex structure utilized 11 sources of capital including tax-exempt bonds issued under the U.S. Treasury's New Issue Bond Program, historic tax credits, 4% low income housing tax credits (LIHTC), and HOME loans.
Red Mortgage Capital, LLC Senior Managing Director John K. Powell said, "HUD Chicago was exceptionally timely and responsive. Their delivery of an FHA Commitment just 41 days after submission demonstrates considerable effort and a dedication to furthering their mission – to create strong, sustainable, inclusive communities and quality affordable homes for all. HUD was integral in helping to make this transaction happen in a tight timeframe so that other deadlines could be met successfully, and we applaud them."
"We were pleased to welcome the Secretary to Chicago to showcase the preservation of this historic building and the community development occurring in the neighborhood," said Mark Angelini, Senior Vice President, Real Estate Development for Mercy Housing Lakefront. "The many layers of financing employed in the purchase of the building were significant to help us overcome barriers to buy the property. We thank the many partners who contributed." Three levels of government – HUD, Illinois Housing Development Authority and the City of Chicago – came together through the John D. and Catherine T. MacArthur Foundation-sponsored initiative known as the Preservation Compact, a city-wide effort to stem the loss of affordable rental housing in the Chicago area. Community Investment Corporation and National Affordable Housing Trust also played key roles that contributed to the purchase of the property.
Operating nationwide since its inception in 1990, RED CAPITAL GROUP, LLC is recognized for its industry expertise, innovative and comprehensive structures, and consistently high lender rankings. Red Mortgage Capital, LLC is one of the nation's top three FHA lenders for overall Multifamily/LEAN experience, having closed more than 100 transactions totaling nearly $1.2 billion during HUD FY2011, and also is an active Fannie Mae DUS® lender for both multifamily and seniors and an approved Freddie Mac Seller/Servicer for Seniors on a national platform.
RED CAPITAL GROUP, LLC is committed to being the nation's premier provider of capital across the spectrum of multifamily, affordable and seniors housing and health care asset classes.
About The Sponsors
Mercy Housing Lakefront (http://www.mercyhousinglakefront.org) is a non-profit affordable housing organization providing innovative housing solutions in response to community needs. They have developed and currently manage 23 properties serving more than 3,500 residents and are working with partners to build or preserve 7,500 affordable homes; help 2,000 families avoid foreclosure; create 8,000 jobs; and prevent displacement or homelessness for 20,000 people.
National Housing Trust-Enterprise Preservation Corporation is a joint effort of the National Housing Trust and Enterprise Community Partners, NHT/Enterprise partners with community groups, for-profits and investors to buy and renovate affordable apartments that are deteriorating or at risk of being converted to market rate. Based in Washington, DC, NHT-Enterprise has preserved more than 5,500 affordable homes in nine states and the District of Columbia.
About RED CAPITAL GROUP, LLC
RED CAPITAL GROUP, through three operating companies, provides integrated debt and equity capital to the multifamily, student and seniors housing, and health care industries. Red Mortgage Capital, LLC is: a leading Fannie Mae DUS® lender for both Multifamily and Seniors Housing; one of the nation's most active FHA Multifamily/Seniors lenders (MAP- and LEAN-Approved); a national Freddie Mac Seniors Housing Seller/Servicer; an active financier of Critical Access, community and rural hospitals; and services nearly $15 billion of income property mortgage loans. Red Capital Markets, LLC (MEMBER FINRA/SIPC) is: a leader in the trading and distribution of Fannie Mae and Ginnie Mae Project MBS; an active underwriter of developer-driven multifamily housing bonds; and also is remarketing agent for nearly $1.4 billion in variable rate demand tax-exempt and taxable housing and health care bonds. Red Capital Partners, LLC delivers proprietary debt and equity to the multifamily and health care industries and provides asset management services for RED's proprietary debt and equity investments.
RED CAPITAL GROUP is headquartered in Columbus, Ohio, employs approximately 200 people and maintains eight offices nationwide. Since 1990, the bankers of RED CAPITAL GROUP have provided over $52 billion in taxable and tax-exempt first mortgage debt, mezzanine level capital and equity to multifamily, seniors housing, health care, and other real estate properties nationwide. RED CAPITAL GROUP is a subsidiary of ORIX USA Corporation.
About Our Parent ORIX USA Corporation
ORIX USA Corporation (http://www.orix.com) is the U.S. subsidiary of ORIX Corporation, a publicly-owned Tokyo-based international financial services company established in 1964. ORIX Corporation is listed on the Tokyo (8591) and New York (NYSE:IX) stock exchanges. ORIX USA Corporation is a diversified corporate lender, finance company, and advisory service provider with more than $6 billion in assets and an extensive portfolio of credit products and advisory services. ORIX USA is headquartered in Dallas, Texas and has approximately 1,400 employees worldwide.
Red Mortgage Capital, LLC is a licensed FHA MAP and FHA LEAN lender.
DUS® is a registered trademark of Fannie Mae.