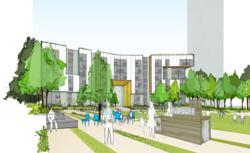 333 Harrison exemplifies how intergovernmental agencies and union labor can work together to create a major urban housing project.
San Francisco, CA (PRWEB) July 28, 2011
Red Mortgage Capital, LLC is pleased to announce it had the privilege to provide $70,000,000 of non-recourse FHA insured construction and permanent financing on a residential development of slightly more than $100 million in total development costs being built in downtown San Francisco. Red Mortgage Capital, LLC is the mortgage banking arm of comprehensive capital provider RED CAPITAL GROUP, LLC (collectively "RED") and the lender that provided the most FHA insured multifamily loans in the nation this past year.
RED processed the $70,000,000 FHA Section 221(d)(4) insured financing for 333 Harrison Apartments, which is located in San Francisco's South of Market (SOMA) neighborhood, through the San Francisco office of the U.S. Department of Housing and Urban Development ("HUD"). The project sponsor is San Francisco-based Emerald Fund, Inc. (EFI), one of the nation's premier real estate companies, who will develop and manage the property. Tom Azumbrado, Director, HUD San Francisco Multifamily Hub commented, "We appreciate that Emerald Fund and Red Capital are using HUD's Section 221d4 mortgage insurance program to add quality housing to an up and coming neighborhood. The property is a transit-oriented development and has excellent energy savings features. The significant affordable component also promotes city, state and federal housing objectives. This is a win-win, but with lots more win-win-win-win-win-win-win…."
Construction of the union-built, seven-story 333 Harrison residential structure began in early July and will generate an estimated 600 jobs for members of the area's building and construction trade unions. Of the 326 studio, one- and two-bedroom rental units which compose 333 Harrison Apartments, 15% (49 units) will be affordable to tenants earning no more than 30% of area median income. In addition, a contiguous parcel of land separate from the HUD-insured portion also was secured by the sponsor and will be developed as a green space/park area for use by residents and others living nearby in the community. The project is situated near the Transbay Transit Center, a major redevelopment project in the City which will be a mass-transit hub for the region's public bus and rail systems.
In addition to serving as FHA mortgagee, Red Mortgage Capital, LLC issued the Ginnie Mae mortgage-backed securities ("GNMA MBS") which were sold in the capital markets by affiliate Red Capital Markets, LLC (MEMBER FINRA/SIPC), a registered broker-dealer. The GNMA MBS was offered through a competitively bid process and was purchased by the AFL-CIO Housing Investment Trust (AFL-CIO HIT) as the funding investor.
Alastair Mactaggart, EFI's President said, "333 Harrison exemplifies how intergovernmental agencies and union labor can work together to create a major urban housing project. We are exceedingly grateful to HUD and the AFL-CIO Housing Investment Trust for working so well with us and to Red, for their expertise and for working so diligently on our behalf." Since its founding in 1979, EFI has successfully completed development projects throughout the Bay-area representing a total value in excess of $2 billion. Their portfolio of managed properties includes over 800 rental residential units.
Liz Diamond, AFL-CIO HIT's Western Regional Director said, "The 333 Harrison project is the third new residential development that the HIT has helped finance in San Francisco in the last year and a half. These projects are creating much needed housing, community development, and union jobs in downtown San Francisco. With the hundreds of union workers to be employed on this project, the investment in 333 Harrison helped the HIT surpass its goal of creating 10,000 union construction jobs around the country through its Construction Jobs Initiative, which was launched in mid-2009 in response to the AFL-CIO's call to action on high unemployment, especially in the building trades."
Webcor Construction is the construction manager for the project. The architect is Christiani-Johnson Architects.
Anthony D. Cinquini, Senior Managing Director of Red Mortgage Capital, LLC and lead banker on the transaction commented, "It was our distinct pleasure to work with Emerald Fund, HUD San Francisco and the AFL-CIO HIT to deliver financing for such important housing and to create jobs along the way. All the participants worked long and hard on this complex transaction and Red is proud to have been a part of making it a reality. It will be a great asset to the local neighborhood and the City."
Operating nationwide since its inception in 1991, RED CAPITAL GROUP, LLC is often recognized for its industry expertise, innovative and comprehensive structures, and consistently high lender rankings, such as having closed more FHA Multifamily & Healthcare loans during HUD FY-2010 than any other lender and also having been the nation's top Fannie Mae DUS lender for both multifamily and seniors. Red Mortgage Capital, LLC's new Freddie Mac Seller/Servicer for Seniors designation, announced April 2011, rounds out the agency platform, which already includes Fannie Mae DUS® and FHA MAP and FHA LEAN lending for multifamily, seniors housing and health care properties.
RED CAPITAL GROUP, LLC is committed to being the nation's premier provider of capital across the spectrum of asset classes.
###