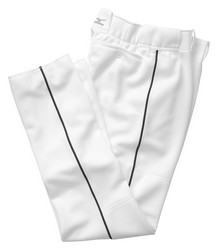 Our customers' passion for the sport is what fuels our commitment to provide them with the best quality and affordability we possibly can through BaseballSavings.com.
Wichita, KS (Vocus) April 1, 2010
BaseballSavings.com has stepped up again! Offering the largest and broadest selection of baseball products in the world, the Redcats USA brand has welcomed several new products to its vast line-up of the sport's best and most innovative merchandise.
Playing catch in the backyard? Squeezing in after-work innings? Hitting a weekend double-header? Baseball enthusiasts of all levels can find the latest technology in performance equipment at BaseballSavings.com to improve their game. And hot deals and new product offerings at BaseballSavings.com are now more easily accessible through sites like Twitter and Facebook!
Customers can gain access to baseball's most affordable, highest quality products at BaseballSavings.com, now including:
Mizuno® Relaxed Fit Pants – A BaseballSavings.com exclusive, these 100% polyester pants offer superior fit, function and technology with a flat front, zip fly and two-snap closure, as well as a wide gripper waistband. Double belt loops on the front and tunnel belt loops on the sides and back add options for extra support. Two back welt pockets with button closure are also featured with double knees for super durability. With an unhemmed open leg and a 37" inseam, the pants are branded with an embroidered Mizuno Runbird logo on the center back belt loop. Pants available in gray or white in sizes small, medium, large, X-large and XX-large. Priced at $34.95.
Mizuno® Premier Relaxed Full-Length Piped Pants – All the amazing benefits of the above-mentioned Relaxed Fit Pants, but with braid trim on the outer seams and offered in even more colors! Available in Grey/Black, Grey/Navy, Grey/Red, Grey/Royal, White/Black, White/Navy, White/Red and White/Royal. Size options include small, medium, large, X-large and XX-large. Priced at $36.95.
Mizuno®'s Custom Designed Shoes – Matching shoe colors to team jerseys or adding simple personal flair has never been easier with color-selection features on BaseballSavings.com! Offered in two base colors (Black and White), Mizuno® Men's 9-Spike Classic 5 Custom Metal Cleats in both Low and Mid models as well as Mizuno® Men's Custom Speed Trainers 2 also have 14 color options for the Mizuno® Runbird logo and another 14 available color selections for the logo outline. But these shoes don't stop at fashionable apparel; their innovative WAVE Technology enhances both stability and cushioning for unsurpassed performance. DryLite moisture-wicking keeps feet dry and cool! Available in sizes 5 through 13 (including ½ sizes), 14, 15, 16. Priced from $109.95 to $129.95.
Miken Freak+ Players Comp Slow Pitch Softball Bats – Unrivaled durability is what this bat offers serious players! Made from 100% composite and designed for legendary performance and durability, this bat features E-Flex Technology to generate maximum flex throughout the entire 2¼" barrel. The ESD Extended Sweetspot Design and extra long barrel construction provide the ultimate power source for serious ball players. X-Tack™ Plus gives extreme knob grip for even more control, and the end-loaded swing weight offers greater distance. USSSA, ISA, ISF & NSA approved, a premium synthetic leather grip and 1-Year Limited Warranty make this bat a must-have. Length/Weights: 34"-26 oz; 34"-27 oz; 34"-28 oz; 34"-30 oz. Priced at $249.95.
"Our customers' passion for the sport is what fuels our commitment to provide them with the best quality and affordability we possibly can through BaseballSavings.com," said Brad Wolansky, CEO of BaseballSavings.com for Redcats USA. "These additions to our merchandise offerings are just a sampling of the work we're doing to respond to customers' needs. Helping them beat their competition keeps us ahead of ours."
BaseballSavings.com maintains its reputation as an industry leader by providing the best performing name brand products at reasonable prices.
About Redcats USA
Redcats USA is a dynamic, multi-channel, web-driven home-shopping leader, with numerous well-known brands in its portfolio: AVENUE®, Woman Within®, Jessica London®, Roaman's®, KingSize®, BrylaneHome® and BrylaneHome® Kitchen sold on OneStopPlus.com®, The Sportsman's Guide® and The Golf Warehouse®. Redcats USA offers a wide range of value and quality driven merchandise categories, including men's and women's plus-size apparel, home and lifestyle products, and sporting goods/outdoor gear. Redcats USA is a Redcats Group company.
About Redcats Group
Standing at the forefront of fashion, design and e-commerce, Redcats brings together 16 brands in home shopping : Avenue®, Woman Within®, Jessica London®, Roaman's®, KingSize®, BrylaneHome®, OneStopPlus.com®, The Sportsman's Guide®, The Golf Warehouse®, La Redoute, La maison de Valérie, Vertbaudet, Cyrillus, Somewhere, Daxon and Ellos, present in 30 countries. Redcats generated 3.386 billion euros of sales in 2009, including 47% on Internet and employs approximately 18,000 associates. Redcats distribution network combines e-commerce web sites (more than 60), catalogues and stores (more than 600). Redcats is a PPR Company. For any further information: http://www.redcats.com
Contact Information
Pat Cross,
Vice President, Corporate PR & Communications
Redcats USA
212-502-9315
# # #