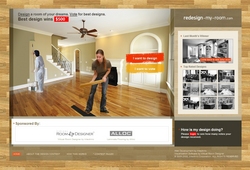 The purpose of this project is to inspire people to design and not be afraid to experiment
Chicago, IL (PRWEB) February 25, 2009
Every homeowner knows that home improvement decisions are not easy to make. Choosing the right paint color or flooring, especially while coordinating it with the rest of the room, can be very frustrating. The new online contest at Redesign-My-Room.com is here to help.
Instead of playing with tiny samples and trying to visualize how everything would look together, Redesign-My-Room shows homeowners exactly what it would look like in a virtual environment. The Virtual Room Designer technology provided by Room-Designer.com allows consumers to design a room "of their dreams" in many styles and themes. Homeowners have full control over their virtual rooms and can safely experiment with colors and patterns in this online environment.
Once their room is designed, homeowners have a choice to submit it to the online contest, where thousands of visitors vote for their favorite designs every day. The winner that receives the most votes at the end of each month gets a $500 gift card towards their home improvement project to make their dream design a reality.
"The purpose of this project is to inspire people to design and not be afraid to experiment," says Andrew Kucheriavy, CEO of Intechnic -- the company behind the project. "I personally know how frustrating the process can be. I came up with the idea when replacing flooring at home. I visualized it manually, by taking digital pictures of the room and then replacing the floor in Photoshop. Then I said to myself, I am a computer geek, I can do that but what about everyone else?"
"Thank you for an amazing website! I loved the virtual designer so much; I want to recreate that room in my home," says one user of the website.
The website is powered by the Virtual Room Designer software that is designed to create the most realistic and inspiring virtual environments in which homeowners can preview, choose and experiment with various home improvement products (such as flooring, paint, countertops, furniture, drapery, etc.). The contest runs every month and is now accepting new entries.
For more information visit:
http://www.redesign-my-room.com
Contact:
Andrew Kucheriavy
847-970-6190 Ext. 114
http://www.intechnic.com
###