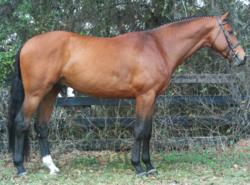 It's exciting to have bred and produced such a quality Show Hunter stallion in Maximus - Emil Spadone, Redfield Farm Owner
Ocala, FL (PRWEB) May 02, 2013
Redfield Farm's Maximus, a 16.1 hand, 6-year old American bred, German Sport Horse stallion qualified for the Green Conformation Hunter division at Devon Horse Show & County Fair. Qualifying lists were announced for the Devon Horse Show & County Fair Thursday, April 25th, 2013 for the May 23 - June 2 show.
Maximus and Redfield's professional rider, Adrienne Iverson qualified for the Devon Horse Show by competing at HITS Ocala, Tampa Bay Classic, and the Tournament of Champions over the 2013 show season. Maximus and Adrienne Iverson were able to come away winners in the three shows this past winter and spring, rising Maximus to fourth in the nation in the Green Conformation Hunters according to the USEF standings.
According to Iverson, "The horse continues to improve every time I show him. I knew with only showing a few weeks in Ocala because of the virus outbreak, I really had to perform well in Tampa with Max to have the opportunity to compete at Devon. I'm looking forward to competing Max and showing off his abilities at such a prestigious show with top horses and riders competing from all over the country."
Maximus is sired by Mynos, a very successful show hunter and producer of quality hunters and jumpers alike. Mynos passes on the beauty of his type, softness of his mouth and gaits, and a lightness to compliment his scope and athletic ability. His dam, Corallie, was successful at the biggest hunter shows in the country, including the fall indoor shows. She was sired directly by the forever sought after, Cor de la Bryère. This legendary sire is known for passing perfect jumping style to his progeny. Maximus is lucky enough to have inherited the best qualities from all of his bloodlines. He is an athlete with beauty, brains, and balance to target the reproduction of American Hunters. IHF nominated.
Fresh and frozen semen available.
Stud Fee- $1,500
Redfield Farms imports, breeds, and sells quality sport horses and ponies for Hunters, Jumpers, and Equitation.
Contact Emil Spadone, Redfield Farms Owner 908-693-5419 or Redfield Farm office at 908-832-5848 for more information.
Visit our website at http://www.redfieldfarms.com
Visit our YouTube page for all the latest Horses & Ponies for sale at http://www.youtube.com/redfieldfarmsales
Like us on Facebook!