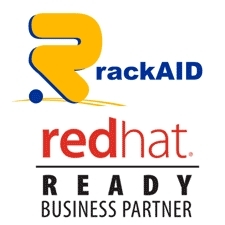 We have always been a Linux shop, but we selected Red Hat Enterprise Linux as our core focus because of the security, reliability and consistency provided by Red Hat
Jacksonville, FL (PRWEB) September 24, 2008
rackAID, a leading provider of on-demand IT management services, has joined the Red Hat Partner Program as a Red Hat Ready Partner. The Red Hat Partner Program enhances rackAID's Linux operations by providing access to development, marketing and training programs.
Through the Red Hat Ready program, rackAID will take advantage of the program's co-marketing and co-branding offerings to further industry awareness of rackAID's long history of Red Hat Enterprise Support. Red Hat's educational materials will allow rackAID sales and technical staff to stay abreast of the latest products and services available from Red Hat.
"We have always been a Linux shop, but we selected Red Hat Enterprise Linux as our core focus because of the security, reliability and consistency provided by Red Hat," said Jeff Huckaby, President of rackAID. "We've always provided basic server management services, but the Red Hat Ready program enables us to design, deploy and manage complex IT platforms."
rackAID provides system administration and IT management services. The company currently manages over 200 servers running Linux. Through rackAID's on-demand IT management program, they provide proactive server management, availability monitoring, disaster recovery and system administration services for hundreds of web and email service operators. Recently, through a partnership with ControlScan, rackAID added a PCI compliance program to their growing mix of IT services.
"Through our partnership, we will be expanding our Red Hat based services. The Red Hat Ready program gives us access to product roadmaps, support and training services that will definitely benefit our staff and our clients," said Juli Zurovec, rackAID's IT Services Director.
The Red Hat Ready Partnership continues rackAID's rapid service development. This year rackAID announced partnerships with SoftLayer, MySQL, R1Soft and MSP Partners. The Red Hat partnership marks a key development in their effort to deliver comprehensive, enterprise-class management services for Linux-based IT service platforms.
About rackAID:
rackAID provides on-demand IT management services suitable for small businesses. The company offers server management, patch management, monitoring and disaster recovery solutions for Linux-based systems. The company's small business clients benefit from better security, availability and reliability in their online operations.
###