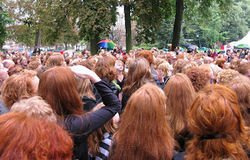 Being in the middle of a sea of a couple thousand redheads is breathtaking and very exciting.
Columbus, OH (PRWEB) May 5, 2010
Redhead-World.net, a new redhead social network, intends to create a sea of red hair by bringing a couple thousand redheads together this summer. By sponsoring and working with an existing Celtic festival, they hope to make a splash into the world-wide redhead community and truly bring together redheads for a large photo shoot.
The growing redhead site has reached nearly a thousand members in just a few short months, with a goal to become the go-to place for all things redhead. It has become a leading source for redhead news, being the first redhead website to break the stories of a redhead scholarship and a call for redhead volunteers by a cable television science show. "Creating a redhead gathering was the next logical step," says Redhead World's co-founder Andrew Warnock.
Redhead festivals aren't anything new though. Hundreds of redheads have been attending Russia's "Ryzhij Festival" or "Redhead Festival" for years now. Also, Roodharigendag / Redhead Day in the Netherlands has been attracting crowds as large as 3,000 redheads. "The Dutch Redhead Day in Breda is quite a sight," Warnock recalls. "Being in the middle of a sea of a couple thousand redheads is breathtaking and very exciting. The problem is most people in North America can't afford to travel across the Atlantic to see it."
So with red haired people clamoring for a gathering in North America, Warnock decided to fill the void and add some Celtic flair at the same time. "Being a new site, money is a little tight, and we wanted a large attendance starting with this first year, so we contacted an existing Celtic festival." Redhead World will be sponsoring the Celtic festival and helping create a mass photo shoot when all the gingers group together for pictures and socializing. As if this wasn't enough, the festival will also have its annual red hair contest. "It is one of the largest Celtic festivals in the world," noted Warnock, "and by looking at their admission figures, we think there will be over two thousand redheads attending that day."
Redhead World's creators wanted to get the word out so redheads could start thinking about travel plans. "The festival council has met and given the green light, but we still need to sign our contract with them," Warnock explained. "We hope to reveal the name of the festival very soon." In the meantime, he did announce that the gathering will be the weekend of August 8 in the United States' Midwest region. It will be within a day's driving distance of half of the U.S. and a third of the Canadian populations.
There will be plenty more fun to be had other than the big redhead events. Leading up to the festival's last day, festival goers can visit Warnock and his volunteers at Redhead World's informational tent. The festival itself will have several stages of some of the best Celtic music as well as plenty of shopping, food, and other exhibits. A redhead documentarian who is making a documentary on red hair will also be filming the proceedings.
For those wanting to make plans for the day and find the latest news on the gathering, Warnock suggests joining Redhead-World.net. "You'll be able to meet redheads and redhead admirers from all over the world including others going to the festival. It's a great place to learn about redhead identity and make friends. There's even been a little redhead dating going on."
About Redhead World
Redhead World is a leading redhead social network whose goal is to unite redheads all over the world. Members can socialize through profiles, blogs, forums, groups, and even built-in audio/video conferencing and chat. The site also has the latest news of redhead issues and festivals plus video interviews with significant redheads. Please visit http://www.redhead-world.net
Contact:
Andrew Warnock, co-founder
Redhead World
+1-614-678-7339
###