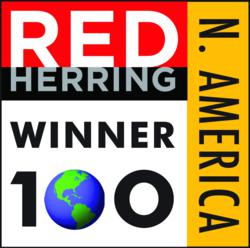 We believe Scality embodies the vision, drive and innovation that define a successful entrepreneurial venture.
San Francisco, CA (PRWEB) July 24, 2012
San Francisco, CA, July 24th 2012. Scality, storage infrastructure innovator, announced today that it won the prestigious Red Herring Top 100 Americas Award.
"The Red Herring Top 100 Award is the award to win. Trends come and go, but two things have been stable in the past fifteen years: the growing importance of IT infrastructure to the overall economy, and the Red Herring award". Jerome Lecat, Scality CEO
"Choosing the companies with the strongest potential was by no means a small feat," said Alex Vieux, publisher and CEO of Red Herring. "After rigorous contemplation and discussion, we narrowed our list down from hundreds of candidates from across North America to the Top 100 Winners. We believe Scality embodies the vision, drive and innovation that define a successful entrepreneurial venture. Scality should be proud of its accomplishment, as the competition was very strong."
Since 1995, The Red Herring awards carefully scrutinize a company's financials, technological innovation, market penetration and management to determine its potential for success. The list provides a barometric reading of the market, revealing exciting technologies bound for success and long term growth.
Indeed the Red Herring editors have a tremendous aptitude for selecting world class winners early on. Many previous Red Herring Top 100 Award winners have made it big. These include: Aruba Networks, Broadcom, Isilon Systems, MySql, Parallels, Qualys, Skype, Vonage and Zimbra
Scality was selected for its unique storage infrastructure, blending enterprise class performance, organic scalability and a cost effectiveness so attractive as to endear it to some of the world's largest service providers.
Scality's RING technology serves the needs of over 50 million users world wide and its impressive line up of customers includes Time Warner Cable, German Aerospace, and most recently Italian service provider - Libero.
About Scality
Scality is the developer of RING, a software platform enabling cloud storage to easily scale up to exabytes using commodity server hardware with direct attached storage. Scality delivers the performance and reliability of a SAN or NAS based architecture without the hassles of volume management at one third to half of the cost.
Scality is used by Service Providers to deploy Storage-as-a-Service offerings, by Email Providers to store emails for millions of users, and by web services managing billions of files with very high performance expectations, either for Web 2.0 or business applications. Scality RING is based on a patented object storage technology, which delivers high availability, ease of operations and total control of your data. For more information, visit: http://www.scality.com or follow @Scality on Twitter.
About Red Herring Magazine
Red Herring magazine is a sophisticated insider's guide to the business of technology, featuring unparalleled insights on the emerging technologies driving the economy, from the Internet to wireless communications and digital entertainment. Red Herring's journalists report on how innovation and entrepreneurship are transforming business and how the business of technology is transforming the world, providing readers with a deep understanding of venture capital and capital markets. Recognized as an essential resource in today's fast-changing business world, Red Herring gets the right answers before anyone else even thinks to ask the questions. More information on Red Herring is available on the Internet at http://www.redherring.com.