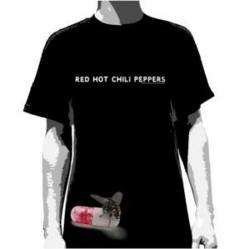 There's plenty of time for fans to order and get their tees before the show
(PRWEB) January 29, 2013
Earlier this week, the popular Coachella festival confirmed the line-up for this year's artists. Amongst those confirmed was the much anticipated Red Hot Chili Peppers live show. "Until this week, we weren't sure if the headliner was going to be The Rolling Stones or Red Hot Chili Peppers," says Shawn Scott, owner of online music merch store Planet 13, "Luckily, we recently released new Chili Peppers tees on our site, so now with the band confirmed, there's plenty of time for fans to order and get their tees before the show."
The popular two-weekend long music festival Coachella just confirmed their epic line-up of bands and artists, much to the excitement of music fans across America. Until this week, it was uncertain who the Coachella headliners would be, but in the end the popular funk-rock band Red Hot Chili Peppers signed on for the show.
Shawn Scott, the owner of online music shirt store Planet 13, says "We've been waiting to see who would end up headlining Coachella, because it helps us prepare for fan demand." The band shirt store always experiences big fluctuations in product demand when major shows and bands are announced.
Shawn continues by saying his store recently "released new Red Hot Chili Peppers tees, which was a stroke of luck because when we added them to our webstore a few weeks ago, we didn't actually know if the Coachella headliners would be the Chili Peppers or The (Rolling) Stones."
Planet 13 caters to music fans around the globe, so having already unveiled new Red Hot Chili Pepper shirt designs when the Coachella line-up was finally confirmed means "Our US fans can confidently place their orders with us over the next couple of weeks and get their RHCP tees in time to wear to the festival."
Because Planet 13 is based in Melbourne Australia, Shawn says those wanting to wear his store's merchandise at the show should "Order by the second or third week of March. That will allow plenty of time for their orders to arrive before Coachella begins." If customers are ever unsure about ordering, Planet 13 encourages them to contact them to about any questions or concerns they may have.
Shawn also mentions that Planet 13 has merchandise available from other bands appearing at Coachella, including The Descendents, Dropkick Murphys, Lou Reed, Tegan and Sara, Yeah Yeah Yeahs and more. "And that's not including the artists we stock that are appearing in week two of Coachella." The Coachella festival commences April 12, 2013 and spans over two weekends.
Now with just under three months to go before the festivities begin, Planet 13 customers who order their tees now will get them in plenty of time before the Red Hot Chili Peppers live show. To order a Red Hot Chili Peppers tee, or to find out more about which Coachella artist's merchandise Planet 13 stocks, visit http://www.planet13.com.au
A bit about Planet 13™
Planet 13™ was conceived and created in 2004 by Shawn Scott, front man of the once-popular Melbourne based glam/punk band Voodoo Lovecats. His online merch store Planet 13 stocks an extensive range of the best quality and fully licensed entertainment accessories, band shirts and music merchandise, all while providing the best customer service around.