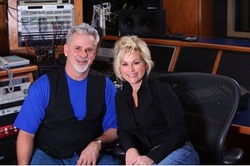 ... we will be using many of Nashville's best studio musicians with whom we have worked throughout our recording career," says RedHot co-founder and Executive Director of Creative Services, Lorrie Morgan
Nashville, TN (PRWEB) October 26, 2010
The RedHot Jingle Company has announced the launch of a full service music production and commercial jingle service for TV, radio, film and new media to be headquartered in Nashville.
Platinum recording artist Lorrie Morgan, marketing executive and former creative director Marty Morgan and pianist/producer Mark Oliverius are the principle partners in RedHot, which will be located at The Horton Group building at the corner of Charlotte and 21st Avenue North in downtown Nashville.
"Some people might say the last thing Nashville needs is another jingle company" explained RedHot co-founder and Executive Director of Creative Services, Lorrie Morgan. "But we think the fresh new style of compelling music we are creating for marketers will set us apart. Everything we do is centered on the "hook". Making messaging that is almost impossible to forget is our trademark. We're applying the same formulas we use for hit songs to create "hit" jingles."
"It's going to be real exciting and we will be using many of Nashville's best studio musicians with whom we have worked throughout our recording career," says Lorrie Morgan, who considers the venture another welcome opportunity to stretch her creative wings. "Marty has a great knack for finding the perfect twist to bring an advertising jingle to life and with Mark's killer arrangements and energy, we are confident we are going to shake things up in the marketing community."
RedHot will feature custom written advertising music and top-quality productions for jingles in genres of music from pop to country, jazz to rock, rap to hip hop. The service will also work with film and video production companies and sports networks to create programming theme songs, bumpers and tags, music intros, musical cues and background audio effects.
The first jingle project out of the gate for RedHot is a custom written and recorded song for local web development and online marketing firm, The Horton Group. The spot entitled "Horton That's Who" plays off the popular concept underlying Doctor Seuss' "Horton Hears A Who" and will begin airing later this fall.
ABOUT REDHOT JINGLE COMPANY PARTNERS
Lorrie Morgan is a 4-time recipient "Female Vocalist of the Year," (TNN's Music City News Awards 1994, 1996, 1997 and 1998) with more than 30 charted Billboard singles, three of them #1 songs. Lorrie was barely a teenager when she made her first Grand Ole Opry Her duet partners have included the likes of Frank Sinatra and The Beach Boys. In 1984, Lorrie was the youngest member ever inducted to the Grand Ole Opry.
Marty Morgan has composed jingles for America West Airlines, Cellular One Phones, Santa Fe Restaurants, Nashville Summer Lights Festival, Horton Group Web Design and over 50 other national, regional and local clients. He has written commercials since 1980 and his previous clients have included Ringling Bros. Circus, Ice Follies & Holiday On Ice, El Chico Restaurants, Mercury Records, Sunbeam Breads, BF Goodrich, The Registry Hotels, Shakespeare Rods & Reels, Hummingbird Marine Electronics, and others.
A veteran of the advertising community in Birmingham, Dallas, Kansas City and Nashville, Marty Morgan is the lead writer for the RedHot creative team with his sister and Oliverius collaborating on lyrics and melodies, producing and offering oversight and quality control on tracking, mixing and mastering.
Before forming The RedHot Jingle Company, Marty Morgan was most recently the National Marketing Director for the industry leading birth certificate ordering service, VitalChek Network. He has served as creative director and senior copywriter for ad agencies in the southeast and Kansas City.
The Morgans are the children of Hall of Fame Member George Morgan whose hit song Candy Kisses elevated him to national fame and a membership to Grand Ole Opry in 1948. He was inducted to the Hall of Fame in 2003.
RedHot Music Director Mark Oliverius recently co-wrote and co-produced the latest stadium theme song for the Dallas Cowboys. "Cowboy Stomp" was recorded by former Trick Pony lead singer Keith Burns and has been a pre-game feature on several 2009 NFL telecasts. Mark has also written and produced commercials for radio stations, auto dealers, restaurants and amusement parks.
"We hope to compete with the national players in the jingle business and win our fair share of advertising music projects," concluded Marty Morgan. "We certainly have the guns to do it!"
RedHot Jingle Company Managing Partners Marty Morgan and Lorrie Morgan
# # #