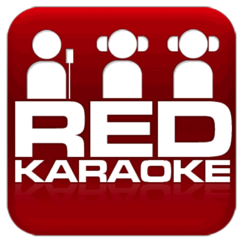 Our goal at Red Karaoke is to provide the best possible karaoke experience anytime, anywhere, on any device
San Francisco, CA (PRWEB) November 01, 2011
Red Karaoke, the international leader in online karaoke is bringing the world's largest online karaoke library to owners of iPhone, iPad, and Android devices in the United States with the launch of Red Karaoke's mobile apps. With over 45,000 songs to choose from, get ready to sing your heart out karaoke lovers!
Red Karaoke offers the most integrated and mobile karaoke experience, letting users sing anytime, anywhere. Use the front-facing camera to record high-quality video and audio, while singing scrolling lyrics from the screen of any iPhone, iPad 2 or Android device. Share recorded performances easily to Facebook and Twitter, and join the 750,000-strong Red Karaoke community to see what people around the world are singing, rate others' performances and even get feedback on your latest rendition of today's top hits!
"Our goal at Red Karaoke is to provide the best possible karaoke experience anytime, anywhere, on any device," said Miguel A. Diez Ferreira, Red Karaoke's founder and CEO. "Our apps let karaoke fans of any type to try out their favorite songs, practice, or share video with Facebook – whether they're at home in private, in public, or hosting a party with friends."
What's Included:

Industry's Largest Song Library – Select from over 45,000 titles
Easily Record Your Performance – High quality audio and video recording
Find Your Perfect Pitch – Adjust a song's pitch to match the singer's key
Largest Community of Karaoke Lovers – Create a profile, save favorite songs and gain fans
Share With Friends – Share your performances directly to Facebook and Twitter
Sing Anywhere – iPhone, iPad, Android phones & tablets, Facebook, or directly in your browser
Facebook App – Immediately post your performances on your wall
Go International – Available in English, Spanish and Japanese languages
The word "karaoke" or "empty orchestra" comes from the Japanese word for "empty" (kara) plus the first part of the word "orchestra." Originally a hit as a Japanese parlor game in the 1970's, karaoke now enjoys worldwide popularity among all ages. Its popularity in the United States is especially high with help from recent television shows like "American Idol" and "Glee".
The Red Karaoke iOS and Android apps are immediately available as a free download on the iTunes store and Android Market. After setting up a free profile, users will have access to a rotating list of 20 popular songs and all user generated videos. A flat-fee VIP option is available to users based on how long (monthly and yearly) they want unlimited access to the full 45,000- strong library. Free and VIP accounts are good across all Red Karaoke platforms, services and applications.
About Red Karaoke
Red Karaoke is the leading provider of online karaoke services, both for the number of members and for the number of song titles available. Their mobile, tablet, and web apps bring the fun and excitement of karaoke anyplace, anywhere on any device. For more information about Red Karaoke, visit http://redkaraoke.com.
###