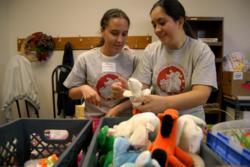 This high ranking for the University of Redlands makes it clear to all that serving others is an essential ingredient in the 'cultural DNA' of the university," said President Ralph W. Kuncl.
Redlands, CA (PRWEB) August 30, 2012
The University of Redlands garnered the No. 30 spot on Washington Monthly's 2012 master's universities rankings. This recognition puts the University in the top 5 percent nationally for those institutions noted for their contributions to the "public good," according to Washington Monthly's ranking methodology.
Schools were rated based on their contribution to the public good in three categories:

Social mobility—recruiting and graduating low-income students
Research—producing cutting edge scholarship and PhDs
Service—encouraging students to give something back to their country
"This high ranking for the University of Redlands makes it clear to all that serving others is an essential ingredient in the 'cultural DNA' of the university," said university President Ralph W. Kuncl. "I'm proud to say that our students and faculty are committed to making a positive difference in the world through activities of both 'head and heart.'"
The ranking is a testament to the thousands of hours that students and faculty dedicate to helping others each year, said Tony Mueller, director of community service learning.
"Our University is committed to service learning, and we will continue that long standing tradition, offering our students experiences filled with life lessons and good stewardship," Mueller said.
The University of Redlands is highly ranked by the nation's most prestigious college ranking institutions including U.S. News & World Report, Forbes, Princeton Review, The Fiske Guide to Colleges and Washington Monthly. Forbes and U.S. News & World Report rank the University of Redlands among the top 5% of their "best colleges" rankings year in and year out.
Over the past five years, the University of Redlands' Campus Diversity and Inclusion Office has led efforts for the University community to think systemically about first generation, low-income students and issues that may arise specifically for this community, said Leela MadhavaRau, special advisor to the president and associate dean of Campus Diversity and Inclusion.
"The Summer Bridge Program and the STEP Peer Mentoring Program are tailored specifically for this population and students who participate in these programs have consistently shown graduation rates in the high 80-90 percent range," MadhavaRau said. "There are also programs that serve the K-12 population, encouraging low income students to consider a pathway to college. University of Redlands' students who have traveled this route themselves have organized and designed these programs."
# # #
About the University of Redlands
The University of Redlands is a independent non-profit, liberal arts and sciences university consistently ranked among the best universities in the nation by U.S. News & World Report. Since the university's founding in 1907, Redlands has emphasized academic rigor, personal development and interdisciplinary studies. An Education + culture of elevated learning provides students with a holistic education that results in a unique life transformation. Redlands students learn equally about service, commitment, life and the world. As a pioneer in the burgeoning field of spatial learning, Redlands integrates spatial learning across academic disciplines. At the innovative Johnston Center, students have the opportunity to design their own custom major. Home to one of the oldest accredited music programs in California, the conservatory-style School of Music educates the whole musician. Adults may continue their education with programs tailored for working professionals at the Schools of Business and Education, offering evening degree-completion and graduate programs at 11 convenient locations.