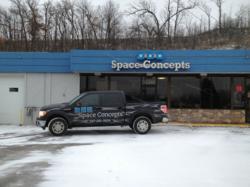 I have had RedLine Garagegear saved in my bookmarks for a while. The time came where I needed something new and different and RedLine was absolutely my first thought.
South Beloit, IL (PRWEB) April 08, 2013
Space Concepts began organizing garages around Rochester, MN in 2004. Two years later, the company expanded its offerings to include storage and organizational systems for all areas of the home or office. Nearly a decade later Space Concepts is increasing its offering again with a powder coated wood garage cabinet line.
Space Concepts owner, Ben Witter, wanted to offer a high quality storage solution meant specifically for the garage. His company offers everything needed for a complete garage makeover: epoxy garage floor coatings, slat wall, and wall storage accessories. The Rochester native researched RedLine Garagegear for a while before making the decision to form a partnership.
"I have had RedLine Garagegear saved in my bookmarks for a while," said Ben. "The time came where I needed something new and different and RedLine was absolutely my first thought."
The father and local football coach was a part of the large training class RedLine Garagegear hosted at its facilities in January. During that time he learned: how to use software to design 3D storage system layouts; RedLine standard operating procedures; and was also able to tour the manufacturing plant. RedLine has built a page on its website for Space Concepts so local residents can easily find the company's contact information.
The local garage storage company operates a showroom at 2620 U.S. 63 in Rochester, Minnesota 55906. Customers can visit the Space Concepts showroom at the following hours: Tuesday through Friday between 10:00 a.m. and 5:00 p.m.; Saturday between 10:00 a.m. and 4:00 p.m. For the best service, it is suggested that you call ahead (507-281-2624) to schedule an appointment with a storage system design expert.
RedLine Garagegear is the child company of Greenberg Casework Company Inc. In 1985, Greenberg Casework Company began manufacturing custom cabinetry and casework. For nearly three decades they have produced quality work that can be found in hospitals, department stores, schools, and residences around the U.S. Another child company, GCC Coatings, provides various coating services to other manufacturers (i.e. powder coating wood, coating countertops and countertop edges, antimicrobial coatings, etc.).
RedLine Garagegear offers its products through a network of authorized agents operating showrooms in the United States and Canada. Each agent is assigned an exclusive territory wherein they alone can sell garage cabinets from RedLine. In areas where no dealer is available the manufacturer sells direct to consumers.
"We are very fortunate to have some great businesses and owners in our dealer network," said RedLine Garagegear National Director of Sales and Research Bill Garrity. "It is important for our customers to be able to go into a showroom to see the quality of our product. We're always looking for qualified business owners to be a part of what we're doing."
A dealer agreement with RedLine Garagegear is quite different from the franchise model being used by other companies. The terms of the dealer agreement do not straddle business owners with exorbitant franchise fees or marketing requirements. It would be a good opportunity for any established business owner interested in expanding its offerings.
Ben Witter is looking forward to the possibilities the year ahead has to offer him and Space Concepts. He is confident that the addition of RedLine Garagegear will help his business grow. Be sure to stop in and see the folks at Space Concepts if you are in the Rochester, MN area. They have all sorts of storage ideas for your world.