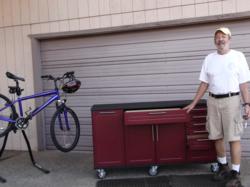 Thanks Redline Garagegear!!! The custom rolling workbench is just what I need: rugged and good looking too.
South Beloit, IL (PRWEB) August 21, 2012
Last month RedLine Garagegear, for the second time, gave fans a chance to win a custom built garage workbench. Contestants were asked to give their name, email, and zip code to have their name entered into the hat. Additionally, contestants are able to earn more entries into the contest by sharing it with their friends.
Wayne F. of Sedona, Arizona is the July grand prize winner. He worked together with RedLine Garagegear President, Troy Greenberg; to come up with a custom design for his workbench. Wayne chose burgundy powder coated wood garage cabinets with a two door-eight drawer configuration. He also put in a storage bin pullout for all the small parts that accumulate in the garage.
The 64" rolling workbench was put on casters and topped off with a black Impact Coating counter top. It shipped fully assembled to Wayne's residence in Sedona. This isn't your typical "t-shirt giveaway". With a retail price tag of well over $2,000 this is a prize Wayne will not soon forget.
"Thanks Redline Garagegear!!!," Wayne wrote on RedLine's Facebook page. "The custom rolling workbench is just what I need: rugged and good looking too," he added.
"The contest has been great for us as well," said Troy. "We've been able to meet some new people, gain some more fans, and connect with folks around the country who need solutions to organize the garage. It's great!"
Each contest four runner ups are also chosen to receive a consolation prize. Runner ups each receive a powder coated, nostalgic RedLine Garagegear sign.
The increasingly popular 'Win a Garage Workbench Contest' is now in its third month. The same rules apply as in the previous months. This time around, however, a 48" workbench is being given away and also Canadian residents are now eligible to win the grand prize.
"We are pleased to offer our neighbors to the North an opportunity to win a workbench," added National Director of Sales and Research, Bill Garrity. "We've got some great RedLine Garagegear agents and customers up that way," he added.
RedLine Garagegear is sold through a network of agents/dealers throughout North America. Agents are given protected territories to operate in to prevent inefficient overlaps. RedLine is constantly seeking to add new business owners to their growing network.
Business owners seeking an opportunity in the home storage market should further research the dealer agreement offered by RedLine Garagegear. "Business owners are free to offer our products alongside any number of other items or brands they wish to carry" added Bill Garrity. "RedLine Garagegear is not a franchise."
In areas where an agent is not available, RedLine Garagegear sells direct to consumers. Homeowners across the country have access to quality, custom products at a fair price.
RedLine Garagegear is the child company of Greenberg Casework Company Inc. Since 1985 Greenberg Casework Company has been providing powder coated wood products, custom built casework, and custom cabinetry to various industries. The company also manufactures components and powder coated parts for OEM manufacturers.
Be sure to sign up for the RedLine Garagegear 'Win a Garage Workbench Contest'. And don't forget to tell your friends about it on Facebook, Twitter, and Pinterest.