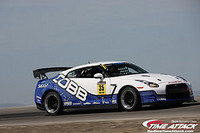 Los Angeles, CA (PRWEB) April 8, 2010
Redline Time Attack, the premiere time attack road racing series in North America, announces it's third event off the annual 2010 series at Las Vegas Motor Speedway Friday April 23, Saturday April 24 and Sunday April 25 with an enhanced competition format.
Las Vegas Motor Speedway is located at 7000 Las Vegas Blvd. N, Las Vegas, NV 89115. Gates will open at 8a.m., all ages allowed. Tickets will cost $20 per day or $30 for a weekend pass. Online ticket purchase automatically receives an official Redline Time Attack T-shirt. Fans who arrive at the gate with the Redline Time Attack flyer will receive $3 off their entry. Children under 12 years old are free with adult. For more information visit http://www.RedlineTimeAttack.com.
Redline is the only professionally organized and promoted automotive racing series dedicated to the motor sport of Time Attack and held at the most premiere racetracks in North America. Redline is now underwritten by a group of automotive savvy and motorsports minded professionals represented by Co-Founder and President, Nikolas Malechikos, supported by Jackson Stewart, who brings nearly 30 years of professional motorsport experience to the table.
Redline caters to enthusiasts and participants in four classes; enthusiast, street tire, modified and super modified. Redline encourages participation by professionals as well as novices. Redline has opened its arms to enthusiasts and allowed them to interact in ways that no other racing series allows. The paddocks and garages are open for spectators to get a first hand view of their favorite drivers and teams hard at work. Redline participants will be provided free Live Timing and Scoring, free world class driving instruction, 2+ hours of track time per day, professionally staffed organization and the opportunity to race against some of the nations fastest drivers.
Las Vegas Motor Speedway also launches the Redline Driver Referral Program. There is no limit to the number of drivers a driver can refer. Referring drivers shall receive incentives applicable to the on-track program. For more information and rules in accordance with program visit; http://www.redlinetimeattack.com/ti/rl/content/referral.html
Spokes models will be competing at the event for the title of Miss Redline Spokes Model 2011. The spokes model competition will continue throughout the year with the ultimate winner receiving a yearlong modeling contract with Redline for the 2011 season including magazine features, spot in the Redline 2011 calendar, advertisement contracts and more!
Additionally, some of the hottest modified cars from California and Las Vegas will be on display at the Time Attack Show N' Shine.
Spectators will also enjoy the Redline Game Lounge! Sony will have their massive 18-wheeler loaded with the newest and best selling games for people to enjoy all weekend!
For racing, entertainment, video game lounge, good food, beer and wine. Join Redline as we make road course racing exciting again!
For more information, photos, or to request an interview, please contact
Candice Love at 415.505.4933 or Candice(at)RedlineTimeAttack(dot)com
2010 Season Schedule
April 23-25 Las Vegas Motor Speedway
May 29-30 Auto Club Speedway
June 12-13 Autobahn Country Club
July 2-4 Willow Springs Raceway
August 14-15 Sebring International Raceway
September 24-26 Spring Mountain Motorsports Park
October 23-24 Infineon Raceway
November 12-14 Auto Club Speedway
Additional Information
Redline Time Attack: http://www.RedlineTimeAttack.com
WebRidesTV: http://www.WebRidesTV.com
Social Networking
Twitter: http://www.twitter.com/RedlineTA
Facebook: http://www.facebook.com/RedlineTimeAttack
# # #