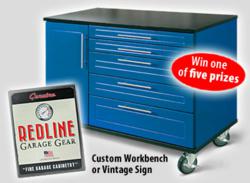 We couldn't be any more pleased with the results. We are fortunate to have great customers who truly understand and appreciate our products and what we are trying to do.
South Beloit, IL (PRWEB) July 10, 2012
After months of planning, preparation, and work RedLine Garagegear (http://www.RedLineGaragegear.com) officially launched its first 'Win a Garage Workbench Contest' last month. That contest ended at midnight on June 30.
Of the hundreds of entrants to the contest Dan S. of Tenafly, New Jersey was randomly chosen as the victor. Dan S. from New Jersey will receive a custom made, fully assembled 48" garage workbench to use in his garage. As part of the rules for winning the contest, Dan will share a picture of himself and his winnings with the garage storage company.
Four runner ups were also named: Darlene W. of Corning, New York; Ron M. of Covington, Ohio; Kim M. of Elizabethton, Tennessee; and Eric B. of Lafayette, Louisiana. They will receive a nostalgic RedLine Garagegear sign. All others can only think of what could have been. But they will also have another opportunity to win by signing up for the July contest.
"This was by far one of the most fun initiatives we've ever put on," said RedLine Garagegear president Troy Greenberg. "I'm very excited to see this continue for another month."
RedLine Garagegear is a U.S. based manufacturer of powder coated wood garage cabinets and storage systems. The products manufactured by the company are sold to homeowners throughout North America. RedLine Garagegear agents assist customers with designing their new storage systems and also with installation of the finished product.
The garage organization retailers are established throughout the U.S. and Canada. RedLine Garagegear sells direct to consumers in areas where no dealer is available. The manufacturer would much prefer to sell through their dealer network, however, and are constantly looking to add experienced, reliable business owners.
"We have a great network of agents who actively promote and sell our products in their showrooms," said Bill Garrity, RedLine Garagegear National Director of Sales and Research. "There is just something about going into a showroom and being able to touch and see what one can have in their own garage."
Anyone interested in becoming an agent for RedLine Garagegear should first visit their website to learn more about the products they offer and then express interest by filling out a contact form.
The same rules from last month's contest will apply in July. The only real difference this time around is that new winners will be chosen.
Contestants only need supply their name, email address, and zip code to have their name entered into the hat. Once a contestant has signed up, they can share the contest with their friends and family via social media platforms like Facebook, Twitter, and Pinterest. It is possible to receive up to ten extra entries in the contest by sharing the provided auto generated unique link and getting others to sign up for the contest through that link.
"We couldn't be any more pleased with the results," added Troy. "We are fortunate to have great customers who truly understand and appreciate our products and what we are trying to do."
And what exactly is RedLine Garagegear trying to do? "I'm glad you asked," chimed Troy. "Organize every garage in America!" With a myriad of products geared towards organizing the garage, RedLine Garagegear is capable of doing just that.
Find out what RedLine Garagegear can do for your garage and don't forget to enter for your chance to win a brand new, custom made garage workbench.
RedLine Garagegear is a division of Greenberg Casework Company Inc. Greenberg Casework Company has been manufacturing custom casework for the building industry, point of purchase display designers, hospitals, and schools since 1985. The U.S. based manufacturer also powder coats wood for both commercial and consumer markets through its child company GCC Coatings. All of the manufacturing is done at its facilities in South Beloit, IL.