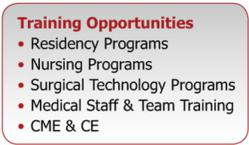 Seattle, WA (PRWEB) May 29, 2012
Red Llama, Inc. announced today that it is releasing version 1.0 of its SimPraxis® Laparoscopic Nissen Fundoplication Trainer and SimPraxis Laparoscopic Hysterectomy Trainer. The learning objectives of these SimPraxis Trainers are: to orient the user to the roles of the surgeon and assistant; learn the relevant anatomy; learn the specific steps of the procedure; understand the required port placements; become familiar with the necessary instruments; and master the key risks of these two laparoscopic procedures. All actions and decisions made in each Trainer are captured for complete formative tracking and summative scoring in order to provide meaningful and accurate assessment. These self-paced modules provide a level of detailed surgical training unmatched outside of the operating room experience through the use of high-fidelity video in highly interactive simulations, which run on a personal computer.
Red Llama offers single-user and site licenses for its SimPraxis Trainers.
SimPraxis, itself, is an interactive simulation software platform, which offers an easy, cost-saving, and engaging way to deliver training on new and existing medical procedures quickly and directly to those who need it, when and where they need it.
The SimPraxis pedagogical approach divides these two complete laparoscopic procedures, the Nissen fundoplication and the hysterectomy, into numerous discrete, logical steps. The Trainer asks the user to decide if the surgeon or assistant controls the step, choose correct instruments, select the appropriate port, identify the key anatomic structures, and indicate where the next step of the procedure should reasonably be carried out. A Variations section is also provided with several surgeons discussing and describing their approach in both sequence and technique.
SimPraxis Laparoscopic Nissen Fundoplication Trainer
AUTHORS: Carlos A. Pellegrini, MD, Professor & Henry N. Harkins Chair, Department of Surgery, University of Washington; Roger P. Tatum, MD, Acting Surgeon-in-Chief of the VA Puget Sound Health Care System and Associate Professor of Surgery, University of Washington.
EDITORS: John G. Hunter, MD, Chairman of Surgery, Oregon Health & Science University; Marco G. Patti, MD, Professor of Surgery, Director, Center for Esophageal Diseases, University of Chicago Pritzker School of Medicine; Nathaniel J. Soper, MD, Professor—Chair, Department of Surgery, Northwestern University—Feinberg School of Medicine.
SimPraxis Laparoscopic Hysterectomy Trainer
AUTHORS: Allan S. Lichtman MD, Clinical Professor, Department of Obstetrics and Gynecology, University of Southern California, Keck School of Medicine; John P. Lenihan Jr., MD, Medical Director of Robotics and Minimally Invasive Surgery, MultiCare Health Systems.
EDITORS: Barbara Goff, MD, Professor— Obstetrics & Gynecology, University of Washington; Keith Isaacson, MD, Medical Director, Center for Minimally Invasive Gynecologic Surgery (MIGS), Newton Wellesley Hospital; Guylaine Lefebvre MD, FRCSC, FACOG, Associate Professor, Dept. of Obstetrics and Gynaecology, St. Michael's Hospital; Henk W. R. Schreuder MD, PhD, Gynaecologic Oncologist, Department of Reproductive Medicine & Gynaecology, Subunit of Gynaecologic Surgery & Oncology, University Medical Centre Utrecht.
Red Llama, Inc. is a privately held Washington State software company dedicated to providing the premier method for disseminating expertise on medical procedures and other complex processes. Founded in 2002, Red Llama works with its customers and other experts in numerous medical specialties to produce training modules based on the SimPraxis® platform.
Distributors:
Surgical Science Sweden AB and Surgical Science, Inc Tony(dot)Rubin(at)surgical-science(dot)com
3D-med blarson(at)3-dmed(dot)com