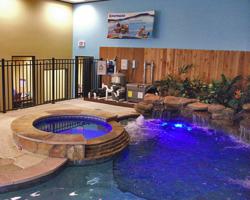 We build affordable, beautiful pools that our clients simply love, and we back that up with customer service our clients can rely on.
Houston, TX (PRWEB) May 09, 2012
On Saturday May 19, 2012, Redman Pools will be opening its pool design showroom with a Grand Opening celebration for the entire family. Professional swimming pool designers will be on hand as well as great family fun for the kids, door prizes and significant savings on swimming pool construction. From 10:00am to 4:00pm, the kids will enjoy face painting, balloon animals and child-friendly reptiles while parents will really get a thrill when they save on their swimming pool cost.
The showroom will feature products that customers can see and feel in order to help them make the best choice for their swimming pool. Also,Redman Pools' designers will be there to assist customers with their decision, putting their many years of experience to good use to ensure that clients get the backyard oasis they deserve. In fact, at the Redman Pools Showroom Grand Opening, all who attend are invited to bring along their survey to receive a 3D design of their future pool. Envision the backyard of your dreams and the Redman Pools swimming pool design team can make it happen.
"We look forward to welcoming Southeast Texas residents into our new showroom," says Mike Redman, Redman Pools President. "Since we expanded our pool construction business and began building residential pools and spas in 2009, we have always kept our focus on one thing. We build affordable, beautiful pools that our clients simply love, and we back that up with customer service our clients rely on. Thanks to their support, the company has grown and we are looking forward to expanding our services into more areas."
Redman Pools also offers referral incentives to their customers because they understand that the best salesman is your next door neighbor. When you look at the fabulous swimming pool photos and testimonials from Redman customers, you will understand right away why clients are happy to refer Redman to their friends.
At the showroom Grand Opening, customers will enjoy meeting with members of the swimming pool design team who have more than 100 years of combined experience. They know the world of luxury pools inside and out and are dedicated to providing every Redman Pools customer with the kind of backyard escape they will look forward to every day when they come home from work.
Jay Bellar, Redman Pools managing partner says, "Customers will be delighted by the new showroom. We have materials on display so they can get hands-on in the decision making process. The whole family is welcome at the Grand Opening and we can't wait to see everyone."
The Redman Pools Showroom Grand Opening will take place from 10:00am to 4:00pm on Saturday, May 19, 2012 at 10110 W Sam Houston Parkway N. Suite 210, Houston, TX 77064. Call 281-469-0581 or email [email protected] with any questions.
###