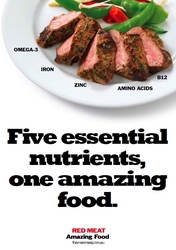 Sydney Australia, NSW (PRWEB) July 28, 2009
In the new TV campaign starring Sam Neill and Dennis the orang-utan, it is surprising to see an orang-utan ride a bike but even more surprising that red meat contains critical nutrients that help to nourish the brain, think clearly, concentrate, keep alert and stay happy.
While food is associated with what it can do for the body it is equally important to understand which foods contribute to everyday mental performance. Emerging research suggests food plays a role in keeping the mind healthy and it is foods rich in nutrients that are key. Red Meat is one of these key foods, containing 5 critical nutrients required for healthy brain function: iron; zinc; amino acids; Vitamin B12 and Omega 3s.
Being low in iron is associated with the physical symptoms of tiredness and lethargy but increasing evidence suggests that it has impacts on everyday mental performance. Even mild iron deficiency, a common state among Australian women, can adversely affect cognitive performance required in daily activities including memory and mental alertness.
But more than one nutrient is required to nourish the brain, studies looking at the performance of school children found that when their diets were fortified with a range of nutrients (iron, zinc, folate and Vitamins B12, B6, AS and C) they showed improvements in verbal learning and memory , even in adequately nourished children.
And foods, such as red meat, may be an effective way of supplying these nutrients. A two year study compared the effect on cognitive development of Kenyan school children from supplementing their diet with either meat, milk or oil. Whilst all children whose diet was supplemented showed improvements, those supplemented with meat showed significantly greater increases in general problem-solving ability than any other group. The authors concluded that meat provides a more bioavailable source of micronutrients3.
While the role of food in maintaining physical health is well documented, these studies provide a new and interesting insight into the role food plays for a healthy mind. They suggest that nutrient-rich foods, such as red meat, which provide a number of important nutrients, can help to improve brain function. Combine this with the social aspects of preparing and enjoying a healthy red meat meal with family and friends, food contributes more than just nutrients to the health of our minds.
###