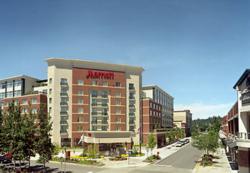 Redmond, WA (PRWEB) September 15, 2011
Students can stride into school with confidence thanks to a shopping deal from the Redmond Marriott Town Center Hotel. Available now until December 31, 2011, the Back to School Deal encourages students to drop their freshman (or sophomore or junior) attire and wear the latest threads from Macy's style experts. The deal includes a $100 gift card to Macy's to start the wardrobe makeover, in addition to an 11% discount pass. Guests who book the Back to School Deal also enjoy overnight weekend accommodations.
To reserve this deal, use promotional code SHO on the Redmond Marriott Town Center website, call 1-800-228-9290 or visit the Redmond hotel deal page.
While students may benefit from the $100 gift card and discount pass to Macy's, parents should also remember that fall is the perfect time to update their own outfits. After all, even though students are the ones returning to school, parents have plenty of appearances to make. Parent-teacher conferences, chaperone opportunities and fund raisers bring parents out of their house and into the school rooms, so they might as well take this opportunity to spiff up their style!
Other than offering parents and students a chance to update their style, the Redmond Marriott Town Center Hotel also gives families a chance to reconnect before school picks up. This hotel near Microsoft features spacious accommodations and is located near great shopping, restaurants and more at the Town Center, the open-air shopping and lifestyle center in Redmond.
About Redmond Marriott Town Center
Experience great new spaces at the Redmond Marriott Town Center. The Marriott hotel is located near Nintendo of America and Microsoft headquarters in addition to great shopping, making this hotel an ideal choice for business travelers and leisure seekers alike. In addition to a great location, the Redmond hotel features the new MI Greatroom lobby, a new concierge lounge as well as new restaurant – SEAR fire.inspired.american. Enjoy Marriott Revive bedding, which includes a quilted-top mattress, down comforters and feather pillows, as well as other hotel amenities including an outdoor heated pool, fitness center, and updated business center. With 10 meeting rooms and 10,000 square feet of Redmond meeting and event space, this Redmond hotel is also ideal for both conferences and receptions. Visit the Redmond Marriott Town Center website to browse dates and special packages at http://www.marriottredmond.com.
###