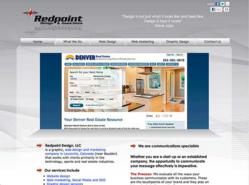 We want to communicate our client's message and create a rewarding and engaging experience for the web visitor. Building long lasting results on the web these days take a more authentic and multifaceted approach
Louisville, Colorado (PRWEB) January 31, 2013
After a year of great successes in 2012, Redpoint Design announces exciting new growth strategies for 2013. "The current explosion of online marketing services and social media has created a wave of confusion among companies trying to legitimately grow their business," commented Steve Filmer, President at Redpoint Design. "Our goal is to help businesses make informed decisions that will help grow their business and create an expanded presence in the online arena."
From their inception, Redpoint Design has always promoted a diverse marketing approach. Specializing in building websites, SEO (Search Engine Optimization), social media and diversified content marketing, they have quickly gained notice as one of the up and coming web marketing companies in Colorado. Redpoint Design's growth initiatives include added investments in technology and monitoring software to facilitate stable long term results and extended real-time reporting. This additional intelligence will allow Redpoint Design to clearly show their clients important marketing trends and the concrete results of their efforts.
"Most SEO companies focus only on rankings or number of hits. While these metrics do matter, we feel it is important to realize the end-goal is to connect with real people and assure them they are working with real people. We want to communicate our client's message and create a rewarding and engaging experience for the web visitor. Building long lasting results on the web these days take a more authentic and multifaceted approach," Steve Filmer explains.
In addition to implementing new technology and widening the scope of their business offerings, Redpoint Design is increasing staff levels to bolster areas of strength and bring fresh perspectives to their constantly evolving strategies. Steve adds, "our intent is always to reach out and allow consumers to find someone they can trust. That trust needs to start here at Redpoint."
About Redpoint Design
Redpoint Design is a premier web marketing and SEO company based out of Louisville Colorado. They specialize in a diversified and safe approach to online marketing which includes optimized website design, content marketing of all kinds as well as social media management. In addition, they employ traditional marketing methods to ensure their client's message reaches all audiences with both digital and print content.
For more information about Redpoint Design visit: http://www.redpoint-design.com