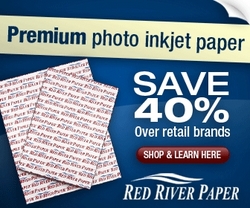 Our inkjet papers rival the quality of large retail brands at prices that are on average 40% less
Dallas, TX (PRWEB) September 1, 2010
Red River Paper, a Dallas-based specialty inkjet paper supplier, marks its thirteenth anniversary in September.
To celebrate and thank their customers, Red River is hosting a social media based contest featuring prizes from some of the most respected companies in the photography industry. The grand prize, provided by Red River Paper, is an Epson 3880 wide format inkjet printer. In addition, contest partners have offered 30 prizes worth almost $4000. Details on how to enter the "Red River Lucky 13 Birthday Contest" and a list of prizes are at http://www.redriverpaper.com/birthday.
In the early fall of 1997, Red River Paper started with a single glossy inkjet paper in one size. 13 years later, the product line now includes 32 different photo quality inkjet papers available in 14 sheet and roll sizes. Red River's facilities have moved four times in that period, each time because of capacity expansion. Red River's current Dallas headquarters is one of the few manufacturing facilities in North America capable of converting a diverse array of inkjet media from bulk material to retail ready product.
Drew Hendrix, Vice President of Red River Paper, states "Our inkjet papers rival the quality of large retail brands at prices that are on average 40% less. A wide variety of surfaces from glossy to fine art are available in 14 different sizes. Our goal is to match the needs of many customers who want to find all of their inkjet papers and technical knowledge in one place." Hendrix continues, "With 2010 shaping up to be a record in terms of sales growth and revenue, Red River plans on continued expansion of our product line and support offerings. We welcome customer feedback and input for future products."
The Red River Paper Lucky 13 Birthday contest will last through September with winners announced in early October.
If you'd like more information about Red River Paper, go to http://www.redriverpaper.com. Press contact dhendrix(at)redriverpaper(dot)com.
# # #