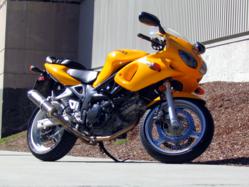 Delivering more quality content for our site visitors will be a key focus for us in 2013
(PRWEB UK) 13 June 2013
To help riders in their search for cheaper bike insurance, Tiger.co.uk has released a guide to help riders to reduce motorbike insurance premiums.
With the British summer in full swing motorcycle enthusiasts in the UK will be desperate to take their bikes out on to the open road. Many will still need to arrange adequate insurance cover but as motoring costs continue to be a heavy financial burden, they will no doubt also be looking for ways to keep premiums as affordable as possible.
The guide aims to explain how motorcyclists can save on their insurance, not only by ensuring that the policy details are correct, but also being mindful of safety and obeying the laws of the road. This valuable advice is a must for those shopping around for motorbike insurance in the current economic climate.
Tiger.co.uk, has over 30 motorbike insurance brands on its comparison panel, together with a growing reputation for ease of use and access to affordable insurance.
Andrew Goulborn, Commercial Director of Tiger.co.uk, commented, "Delivering more quality content for our site visitors will be a key focus for us in 2013. Insurance can be a complex field for people to navigate and we feel that the better informed people are, the better equipped they are to make the right buying decisions when it comes to getting properly covered. Having listened to shopper feedback we thought that additional information would be welcomed. All this information can be found within the "Help & Info" area of the site, accessed at the top right of the homepage."
About Tiger.co.uk
Tiger.co.uk is a trading name of Call Connection Ltd. Tiger.co.uk is a UK based, independent motor insurance comparison site, offering insurance quotes from over 150 motor insurance brands. Call Connection Ltd is authorised and regulated by the Financial Conduct Authority (FCA number 308374).