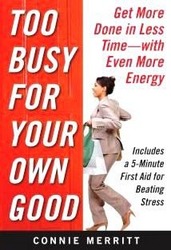 Don't over schedule, plan no-time, let go and say no and strike a balance between work and play activities to insure you are recharged, renewed and ready for fall. Take a deep breath and plan to relax.
Newport Beach, CA (Vocus) May 24, 2010
Summer invites relaxing times with fun opportunities for escapes, spending more time outdoors, and longer days with thoughts of enjoying time for the things we really want to do. In reality, it is often the busiest time of the year because people host parties, schedule weddings, family reunions, plan trips, guest visits – often while managing multiple demands from schedule changes (like children being out of school or more activities as a result of longer days with extended sunlight). It can also be stressful - with too many things to do and places to go (or not enough). Tips from Connie Merritt, RN, PHN, and author of 'Too Busy for Your Own Good' (McGraw-Hill) helps you take action now to reduce busyness and stress to make these longer summer days – the summer you want.
1.) Your Summer Starts with You
Accept it's your responsibility to plan and help reduce stress and manage the busyness -- you can manage it and have the summer time you want. (Even if you are getting multiple demands from different areas.) By taking responsibility for your summer time
-- it enables you to find the solutions far more quickly and you're more likely to have the summer you want this year.
2.) Planning Ahead is Key
With prior planning you'll be better prepared. Get a calendar and make time now to connect with yourself and family members to capture thoughts in a list of what you and others want to do for the summer. When planning be sure to review interests, activities, assignments, and commitments (workplace, home, family/friends and community ). Set realistic goals for your summer. The pace is often slower and a good time to develop relationships – or take that much needed vacation or time off.
-- If you have children at home for summer vacation involve the whole family in the summer planning process. Ask for everyone's input and suggestions. Discuss expectations with your kids in advance to avoid any misunderstandings. Decide together on some fun family activities and put them on the calendar.
3.) Don't Overschedule - Establish "No-Plan" Times
Beware of over planning your days during summer. Sometimes sleeping in, taking a walk around the block, planning a trip to a park, or watching a movie is most enjoyable.
Keep an organized calendar that easily references all commitments and plans. On that same calendar, schedule in some "not-to-be scheduled time." And stick with it. Part of summer's fun is to have cookouts, unstructured reading, etc., and block regular times out on the calendar that are dedicated to family and friends only.
-- If you have children at home, remember it is okay to let your kids be bored occasionally (they will find something to do).
4.) Let Go
And now, to make the longer summer days –yours, you must agree to let go by trimming your to-do list. While there are no easy answers to these questions, ask and review: What can be let go of ? (…including guilt)
5.) Say No
No may be the most powerful word to use during the summer to relieve stress and busyness. Say it pleasantly and with a smile (at least in your heart and tone).
No, can save you time; enable you to focus on what's important to you; and protect you from your own good-heartedness. Here are some No, phrases:

I have a prior commitment
I'm over-extended right now
Sorry, can't…let me know how it goes.
I'm tempted, but I'll have to pass
I'm honored, but I won't be able to fit it in.
You know I'd never refuse you if I could help it-but that won't work for me
" Woven into summer are dynamics that create busyness and add to our stress – often robbing us of what really matters most to us, " stated Connie Merritt."The gain from getting busyness and
stress managed during the summer is the fact you will be healthier, your priorities clearer, and you'll have less stress and more energy. Bottom-line -- you'll have more fun and fulfillment and a happier summer time that is truly yours! So, take responsibility and schedule your planning time – make it fun and special (meet outside, serve fruit drinks, or summer fruits). Don't over schedule, plan no-time, let go and say no and strike a balance between work and play activities to insure you are recharged, renewed and ready for fall. Take a deep breath and plan to relax."
About Connie Merritt, RN, PHN, Author, Speaker, Business Professional
Connie Merritt, RN, PHN, is a nurse, speaker and authored (McGraw-Hill): 'Too Busy for Your Own Good.' Connie has seen both the physical and the practical symptoms of America's stress epidemic. By some estimates, ninety percent of visits to primary care physicians are due to stress-related illnesses, such as indigestion, headaches, back and neck problems, and insomnia.
Connie Merritt, has just about heard it all before during her nursing career, experienced much of it herself and sees it firsthand at the conferences she speaks at each year. She is an expert on helping people manage the things in life that do not really matter so they can focus on the things that do, and reclaim the joy and excitement in their lives in the process. Based on the latest research on health, business and the brain, Too Busy For Your Own Good offers readers specific techniques on how to triumph over the obstacles that drain our spark for life – it is a rescue manual to help assess and kick the busyness habit. Connie Merritt is an experienced storyteller and has addressed millions of people and draws upon her experience as a nurse, author, business woman and recovering Superwomen.
http://www.ConnieMerritt.com
http://www.TooBusyForYourOwnGood.com
Contact:
Beverly St. Clair
Workhorse Media Group
Telephone: 949-494-3009
Mobile: 949-235-1230
###