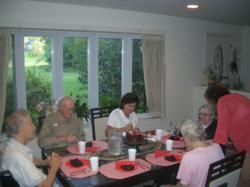 Potomac, MD (PRWEB) April 30, 2013
Elder abuse is a very serious and common occurrence in health care facilities and private homes. Many elders face the trauma of mental and physical abuse by caregivers and even loved ones which leads to helplessness and despair. Elder abuse has been steadily rising and is becoming more prevalent. Recently, several stories have been published in the media about elder abuse being a big problem in health care facilities. Potomac Seniors Village, an assisted living Bethesda facility, has a zero tolerance policy for elder abuse and is new taking steps to ensure the safety of the residents in hopes of reducing the percentage of those affected.
According to the National Center on Elder Abuse (NCEA), elder abuse is defined as intentional actions that cause harm or create a serious risk of harm, whether or not intended, to a vulnerable elder by a caregiver or a person who is in trust of the elder. Also, it is the failure by a caregiver to satisfy the elder's basic needs or protect the elder from harm. It is very important for elders to feel safe and protected in their environments.
Elder abuse can take many forms. One type is physical abuse, which entails physically causing harm to an elder. This could be hitting an elder when the elder is not eating food or going to the bathroom. Also, physical abuse can also mean restraining an elder with a belt on a wheelchair, couch, or bed so that the elder is not able to move. There is also mental and emotional abuse. This can occur when the caregiver voices negative comments towards the elder. If a caregiver is not doing an activity correctly, the caregiver may start name-calling or cursing at the elder. Emotional abuse includes making the elder feel incompetent and insecure. There may even be spiritual abuse. Caregivers may not allow an elder to practice a certain religion freely. For example, a caregiver may take down religious ornaments down from walls or furniture. This also impacts an elder's mental and emotional state. Financial abuse is also a very common type. For example, on April 5, 2013, the Chicago Tribune reported a caregiver fraudulently obtained $350,000 from a man suffering from dementia (http://chicago.cbslocal.com/2013/04/05/caregiver-husband-sister-charged-with-bilking-dementia-patient-out-of-350k/). Caregivers take advantage of an elder's trust and poor mental judgment, which results in abuse.
Potomac Seniors Village, a senior care Maryland facility, has a zero tolerance policy for elder abuse. Per the Code of Maryland regulations (COMAR) for senior care Maryland facilities, resident's rights are clearly posted in each home for staff, residents and loved ones to read and follow. Residents and their families are also given a copy of resident's rights upon move-in. If there is a complaint of suspected elder abuse, Potomac Seniors Village, a senior care Maryland facility, will take the appropriate steps by contacting the correct authorities.
The senior care Maryland center ensures the residents' safety by hiring licensed and experienced staff. All staff receives extensive, one-on-one training so that each resident is understood thoroughly and receives the proper attention and care. The delegating nurse comes to the assisted living center every 45 days to perform health assessments and review the care notes taken by staff. The staff to resident ratio is small, so that every resident receives individualized attention. Staff and families work together to incorporate a resident's lifestyle into the environment of the assisted living center.
The staff also ensures that the residents do not perform any strenuous activity. All supplies and medications are picked up by managers or families, by choice. Also, all residents are encouraged, but not obligated, to participate in activities. Residents who do not feel comfortable are never forced into participating in the activities with other residents. In addition, all staff and residents have access to the managers 24 hours a day, 7 days a week. Although at least one manager is almost always there, residents are encouraged to call the managers at any time when it is felt that a need is not being fulfilled. All residents at the assisted living Bethesda center are encouraged to maintain their independence and privacy; however, the staff and managers are always ready to help.
Elder abuse is on the rise and, unfortunately, is predicted to increase. Potomac Seniors Village's goal is to decrease the percentage of those affected by starting at home. The assisted living center is proud to state that there has never been a speculation or case of suspected elder abuse. The environment is warm, friendly and comforting so that residents feel like they are at home. Potomac Seniors Village's goal is to prevent elder abuse and is taking all measures to ensure residents feel safe and protected.