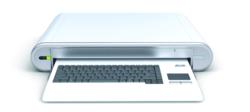 Birmingham (PRWEB UK) 12 April 2013
With an estimated 1.4 million people affected by Health Care Associated Infections (HCAI's) at any one time (World Health Organisation), infection control has remained a huge part of people's lives for a number of years.
Hospitals and healthcare establishments are working hard to clean and disinfect as much as possible. This is now evident after fewer outbreaks of MRSA/C. Diff have been found in UK hospitals than in previous years.
So what are hospitals doing differently now?
Through educating, training and offering better resources, the NHS and many other healthcare establishments are more aware on how to battle HCAI's. Each NHS Trust has more Infection Control Nurse's than ever before and technology is better prepared to help tackle the spread of infection.
Keyboard Specialists Ltd (KBS) has been working across the UK to offer all healthcare establishments the largest range of medical keyboards and mice, to help with the reduction of HCAI's:
Vioguard's self-cleaning keyboard – housed in a cleaning area and using UV lighting, the keyboard retracts into the cleaning area when not in use and cleans itself.
Cleankeys – a wireless medical keyboard with full 3-year warranty, the Cleankeys CK2 is the preferred choice for many healthcare professionals.
Medigenic Keyboards – the NHS approved keyboard and mouse set is available from KBS directly. The Medigenic Compliance utilises the 'Clean-me' patented alert system.
Accumed – a complete range of medical keyboards from full 105 key layouts to compact with a built-in touchpad and even mini.
Each keyboard is used differently and others are better suited in certain environments. KBS offers the full range to give the user the freedom and selection to choose the correct medical keyboard for the job. Their experienced staff are always willing to help advise as best they can and all of the infection control keyboards above are in stock and ready for next day delivery from KBS.
Prices range from £44.16 - £299 (ex VAT)*
*Prices were correct at time of print