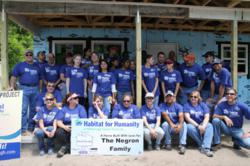 VectorLearning is an organization that really stands out when it comes to their humanitarian efforts
Tampa, FL (Vocus/PRWEB) March 01, 2011
VectorLearning, comprised of design and construction eLearning leader RedVector and Care2Learn, the definitive online continuing education provider for the post-acute care industry, announced plans this month to donate a portion of its 2011 sales to Habit for Humanity. Working with its customer base of architects, engineers, contractors, and healthcare professionals, the company will facilitate donations through its websites and has pledged to donate $5 for every order placed—up to $10,000—through the spring season.
This will mark the fifth consecutive year VectorLearning has contributed to Habitat for Humanity, a non-profit volunteer-driven cooperative dedicated to providing "safe, decent and affordable shelter" for individuals and families in need. VectorLearning employees also dedicate one day each year to helping Habitat for Humanity build a home in the Tampa Bay area.
"It's really remarkable the commitment VectorLearning displays as a company," says Marketing Communications Manager Kelly Conlon. "Anyone can talk the talk, but they actually walk the walk, and it makes me proud to be a part of such a dedicated and committed team. So many of the causes we support are near and dear to my heart, and just to see the participation from everyone is truly inspiring."
The corporate culture of VectorLearning is deeply rooted in its commitment to giving back to the community, and its philanthropic history has included actively supporting organizations such as Habitat for Humanity, Susan G. Komen, and Metropolitan Ministries. In 2010 the company raised more than $13,000 through its online donation drive for victims of the Haiti earthquake.
"VectorLearning is an organization that really stands out when it comes to their humanitarian efforts," says Habitat for Humanity Executive Director Brian Hastings. "It's been a pleasure to work with them as we build a better community year after year."
About VectorLearning
VectorLearning sets the standard for excellence in [online continuing education and training for licensed and certified professionals in the engineering, architectural, construction (AEC) and post-acute healthcare industries. With an online library exceeding 1,500 courses authored by more than 200 subject matter experts and spanning all 50 states, VectorLearning serves more than 300,000 working professionals. The recipient of numerous community honors and industry awards, VectorLearning was founded in 1999 and is headquartered in Tampa, Florida. For further information call 1-866-546-1212 or visit http://www.VectorLearning.com.
# # #