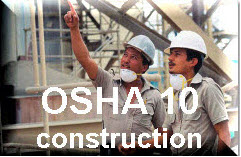 We are so pleased with the continued success of RedVector's OSHA 10 construction training program. The OSHA-approved course package serves a critical need in the industry. ~ Charles Burger, Client Support Manager for RedVector
Tampa, FL (PRWEB) June 28, 2011
RedVector.com, the leader in online continuing education for the AEC industry and approved provider of OSHA 10 construction training for construction professionals, recently celebrated a milestone. Since May 2008 the company had awarded a landmark 3,672 OSHA 10 cards to construction workers and general industry professionals.
"We are so pleased with the continued success of RedVector's OSHA 10 construction training program," says Client Support Manager Charles Burger. "The OSHA-approved course package serves a critical need in the industry and has not only met but exceeded our expectations. We look forward to continually improving our course curriculum to meet the needs of our industry professionals."
The Occupational Safety and Health Administration requires all contractors and subcontractors to complete an OSHA 10 safety training course and provide proof of training with an OSHA 10 construction training completion card. RedVector's OSHA 10-hour Construction Program includes an introduction to OSHA standards and provides critical education on specific topics such as:

Electrical safety
Fall protection and accidents
Personal protective equipment
Scaffolds & cranes
Power tools & materials storage
Excavations & demolitions
Hazards in communication
The OSHA-authorized course is accessible 24/7 from any computer through RedVector's premier online learning management system. It teaches construction workers, job supervisors, trade workers and others how to recognize and prevent hazards on the construction site and focuses on the major areas in construction to which OSHA standards apply.
About RedVector
RedVector sets the standard for excellence in online continuing education for licensed and certified professionals in AEC industry and holds more than 60 state and national accreditations. With an online library exceeding 1,000 courses authored by more than 100 subject matter experts and spanning all 50 states, RedVector serves more than 130,000 architecture, engineering and construction professionals. The recipient of numerous community honors and industry awards, RedVector was founded in 1999 and is headquartered in Tampa, Florida. For further information call 1-866-546-1212 or visit http://www.redvector.com.
###