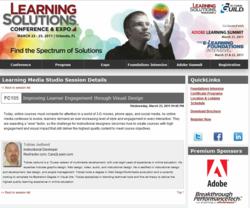 Creating eLearning content that's not just educational but also highly engaging and visually appealing can be a challenge, but that challenge is exciting
Tampa, FL (Vocus/PRWEB) March 09, 2011
VectorLearning, comprised of premier eLearning providers RedVector and Care2Learn, is renowned for its robust online curriculum and user-friendly learning platform. A testament to the company's commitment to superior online education, Jedlund was chosen from among hundreds of entrants to present at the 2011 Learning Solutions Conference & Expo—an annual gathering of industry professionals focused on eLearning enrichment.
On Wednesday, March 23 at 1:45PM, Jedlund will present Improving Learner Engagement through Visual Design, an informational session designed to educate instructional designers about enhancing the online education experience by merging innovative graphic and design elements with current eLearning technology. Course objectives include:

Leveraging page design strategies for a better user experience
Identifying and utilizing the components of great page design
Understanding how different image styles convey meaning
Exploring/implementing current eLearning design trends
Selecting graphics/design elements to enhance course content
"Creating eLearning content that's not just educational but also highly engaging and visually appealing can be a challenge, but that challenge is exciting," says Jedlund. "It's what I love about being a designer—blending art and technology to find new ways to improve how people are learning. I'm really looking forward to presenting at the Learning Solutions conference and being able to share what I know and learn from other experts in the field."
A 12-year veteran of multimedia development with more than eight years of experience in online education, Jedlund specializes in blending technical tools with fine art theory and applying his unique expertise to improve the eLearning experience.
About VectorLearning
VectorLearning sets the standard for excellence in online continuing education and training for licensed and certified professionals in the engineering, architectural, construction (AEC) and post-acute healthcare industries. With an online library exceeding 1,500 courses authored by more than 200 subject matter experts and spanning all 50 states, VectorLearning serves more than 300,000 working professionals. The recipient of numerous community honors and industry awards, VectorLearning was founded in 1999 and is headquartered in Tampa, Florida. For further information call 1-866-546-1212 or visit http://www.VectorLearning.com.
# # #