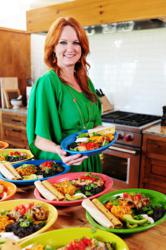 Every year, I'm blown away by the motivated, creative, and talented people I meet at BlogHer, and I'm so honored to be able to help kick it off this year!
Belmont, CA (PRWEB) June 17, 2013
BlogHer, Inc., the premium cross-platform media network and publisher for women, announced today that Ree Drummond, long-time member of the BlogHer Network, will be the opening keynote speaker at BlogHer '13 on Friday, July 26 in Chicago.
Ree Drummond is a writer, photographer, ranch wife, homeschooling mother of four, and the creator of the blog The Pioneer Woman. Named Weblog of the Year at the 2011, 2010 and 2009 Bloggie™ Awards, ThePioneerWoman.com has been the launching pad for a multi-media career that includes a hit Food Network television show of the same name and four The New York Times Best Sellers across three genres. Her next book, The Pioneer Woman Cooks: A Year of Holidays — 135 Step-by-Step Recipes for Simple, Scrumptious Celebrations will be released in October, 2013.
Ree will kick off BlogHer '13, the largest event for bloggers and social media influencers in the nation, with a candid and instructive visual retrospective of her blog's evolution -- from its early 2006 launch to ThePioneerWoman.com's current leadership as one of the largest blogs and online communities on the Web. Ree will then answer questions, including from the community, in a casual interview format. Ree also will help kick off an annual tradition at the conference: Speed Dating, BlogHer Style.
"We're thrilled to have Ree Drummond join us as part of the opening festivities at BlogHer '13," said Elisa Camahort Page, Jory Des Jardins, and Lisa Stone, BlogHer co-founders. "The story of her evolution, as a creative and as a business person, from someone who is so funny, warm and honest about what she's learned about blogging, photography, food, motherhood AND life, will inspire our community, and resonate with the women—and men!—who attend BlogHer '13 to hone their skills and build relationships over the following two days."
Ree added, "I first attended the BlogHer conference back in 2007 when I was relatively new at this whole "blogging thing," and it has since become an annual tradition for me. Every year, I'm blown away by the motivated, creative, and talented people I meet at BlogHer, and I'm so honored to be able to help kick it off this year!"
BlogHer '13 takes place from July 25th to July 27th at the Sheraton Chicago and McCormick Place, Chicago, IL.
To register for the conference, please visit: https://events.thepulsenetwork.com/attendee/blogher13registration.htm
About BlogHer:
BlogHer (http://www.blogher.com) is the leading cross-platform media network created by, for and with women in social media. BlogHer delivers quality advocacy at scale for brands seeking to engage in authentic and persuasive dialogue with moderated communities led by more than 7,000 leading influencers who reach an audience of 92 million across premium blogs, Pinterest™, Facebook®, Twitter™ and social media, including 55 million blog readers alone (Source: Nielsen Site Census, March, 2013). Founded in February 2005 by Elisa Camahort Page, Jory Des Jardins and Lisa Stone, BlogHer publishes and syndicates news, information, advice, recommendations and research on women in social media across interest areas as well as on BlogHer.com. The Company also hosts the world's largest conferences for women in social media.