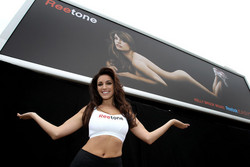 After the initial launch, we sold out of EasyTones in just a few days
(PRWeb UK) September 25, 2010
Throughout summer Reebok's toning trainers have been endorsed by Kelly Brook who appeared naked in posters worldwide, wearing nothing but a pair of Reebok EasyTone shoes.
Meanwhile, to appeal to a male audience with a focus on fitness and training, Reebok has also been endorsed by Footballers Thierry Henry and Ryan Giggs while Formular One racing driver Lewis Hamilton training in Reebok RunTone trainers.
The first Reebok ReeTone television marketing campaign was a runaway success with retailers selling out of the highly sought after shoe in a matter of days.
This Saturday evening, the ReeTone television campaign begins anew with heavy exposure around Simon Cowell's latest series of The X Factor airing on ITV1 at 7:30pm.
With the series already causing controversy which resulted in a massive viewing figures spike in recent weeks, it seems like the best opportunity for Reebok to market their toning trainers to one of the UK's biggest television audiences.
Many sports shoe retailers, including active lifestyle specialist FitnessFootwear.com have bolstered Reebok EasyTone stocks in anticipation of the sudden surge in public interest.
"After the initial launch, we sold out of EasyTones in just a few days" explained Managing Director Luke Barlow. "But this time we're ready with more stock than ever before."
During May, every retailer on the web or in the high street sold out of Reebok EasyTone trainers, before the Reebok ReeTone campaign was even in full swing -including Reebok themselves.
This month the demand is expected to be greater than ever with many people panicking to get a pair before stock levels run dry once again. Fortunately, Reebok has produced a record amount of trainers for the launch.
"Now all we've got to worry about is getting them out of the door on Monday morning!" Mr Barlow joked.
The X Factor is just one of many prime time television programmes incorporated into the Reebok ReeTone marketing campaign, as well as many health, fitness and fashion magazines.
For more information regarding Reebok EasyTone trainers, visit: http://www.fitnessfootwear.com/c-401-reebok-easytone.aspx
###