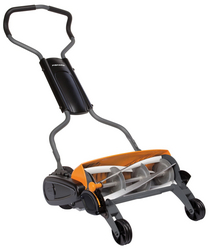 Reel mowers are good for your budget, good for your health and good for the environment.
Saint Paul, MN (PRWEB) March 9, 2011
ClickToShop LLC is excited to announce its acquisition of the domain PushReelMowers.com and recent launch of its newest specialty store dedicated to selling environmentally friendly and technologically advanced walk-behind reel mowers. The new store features top reel lawn mower brands including Scotts, Fiskars, Brill and American Lawn Mower.
With spring right around the corner, it's time to start thinking about lawn care. This year, make the switch to an eco-friendly mower. Reel mowers are good for budget friendly, healthier than gas mowers, and better for the environment. Since reel mowers do not have a gasoline powered engine, there are zero carbon emissions, zero air pollution and no gasoline spills. Compare that with the U.S. Environmental Protection Agency's statistic that traditional lawn mowers account for five percent of the nation's air pollution, and it is easy to see why push reel mowers are making a big comeback in the marketplace.
Today's reel mowers offer superior features and performance compared to older traditional models. With cutting edge features, the Fiskars Momentum reel mower, for example, offers a five blade design that evenly cuts grass through a scissor type action that's easier to push and healthier for your lawn. Unlike previous reel mowers, the cut height is adjustable anywhere from a half an inch all the way to 4 inches depending on the model.
With the push reel mowers of today, you can easily "go green" and "save some green." ClickToShop LLC invites you to explore all of their benefits by visiting our newest store, Push Reel Mowers.
About ClickToShop LLC
Minneapolis-based ClickToShop LLC sells over 15,000 items through more than 40 online specialty stores. Each ClickToShop specialty store is devoted to one specific product category. Unlike traditional brick and mortar stores, where you might see one or two products per category, our online stores carry all the products in a specific category. Combine this with unparalleled customer service and on time shipping, and you may reconsider your next trip to the mall or big box store.
Contact Information:
Brendan McCarthy
ClickToShop LLC
877-862-5757
###