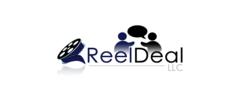 We have tailor made our product to the exact specifications and taste of our targeted niche, said Phillip Mshelbawla, Co-Owner, Reel Deal LLC
Wheeling, WV (PRWEB) August 03, 2012
Three Wheeling Jesuit Students, Ramee Naja, Broderick Colaner, and Phillip Mshelbawla founded their own company in May 2012 called Reel Deal LLC. Reel Deal offers universities a product package that benefits their students academically on a forum that the students will enjoy using. It was announced today, that Reel Deal will be launching this spring and are offering their product to any interesed university.
"Our company is based off our own ideas of what we think would help improve higher education. We focus on giving kids an avenue in which they can receive all their academic and social information, while being rewarded for choosing Reel Deal," said Ramee Naja, Co-Owner, Reel Deal LLC.
Each student signed up for Reel Deal will receive a set top box, remote, and all necessary cables. With the Reel Deal set top box and user interface, students will be able to stay updated on anything going on around their campus. Reel Deal focuses on three areas to help improve the college lifestyle:
Academics: With the Reel Deal user interface, each student will be able to check anything happening on their campus, straight from the comfort of their own dorm. Check grades, emails, sporting events, add/drop dates, weekly lunch menus and much more.
Social Media: Reel Deal will customize each user interface to its corresponding university. Students will be able to keep up to date with news around the world, check out events around the college town, keep in touch with their classmates or just speak their mind.
Movies: Each student will be able to stream up to 1,000 Hollywood motion pictures that they actually want to watch. Reel Deal focuses on the interests of college students and picks its streaming library accordingly. All motion pictures will be stored on a cloud system and can be accessed via Ethernet cable to the Reel Deal set top box.
"Electronic advertisement is a rapidly growing business. We as students ourselves know kids do not read flyers, or check those "what's new on campus" emails, they spend half their time on Facebook or Twitter. Reel Deal puts all the information you need to know whether it be academic or social, on an avenue that students will want to use," said Broderick Colaner, Co-Owner, Reel Deal LLC.
Reel Deal is slated for a spring 2013 launch. For investment, and advertisement inquires or to bring Reel Deal to your school this spring, contact us at business(at)ReelDeaLLC(dot)com.
Like us on Facebook, and Follow us on Twitter @ReelDealLLC. Visit http://www.ReelDealLLC.com to learn more.